Yemen: prominent human rights activist arrested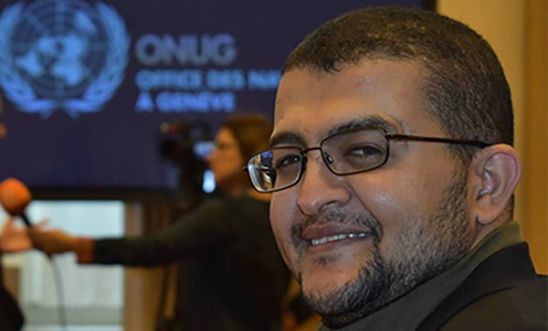 Abdulrasheed al-Faqih has reported on airstrikes during the war in Yemen © Amnesty International
'Abdulrasheed al-Faqih's courage and dedication have made him the target of repeated harassment' - Samah Hadid
Responding to reports that Abdulrasheed al-Faqih, the Executive Director of Mwatana Organisation for Human Rights, was arrested this morning while on his way to Sey'oun airport in the southern Yemeni city of Mukalla, Samah Hadid, Amnesty International's Middle East Campaigns Director, said: 
"Abdulrasheed al-Faqih is one of Yemen's most prominent human rights defenders and has worked tirelessly to expose the myriad human rights abuses committed by all parties in Yemen's brutal conflict.

"Unfortunately, Abdulrasheed al-Faqih's courage and dedication have made him the target of repeated harassment, and prior to his arrest today he was detained by Huthi forces on several occasions. 

"We fear he has been arrested - yet again - solely for his human rights work; and if this is the case he must be released immediately and unconditionally and allowed to travel and seek the medical treatment that he needs. 

"Mwatana, the human rights organisation that Abdulrasheed al-Faqih heads, has provided invaluable independent reporting and documentation of airstrikes and ground attacks, extrajudicial executions and other unlawful killings, arbitrary detention, violations of women's rights, enforced disappearances, and many other human rights issues in Yemen. 

"Yemen and the world cannot afford to allow Abdulrasheed al-Faqih's calls for accountability and justice to be silenced." 
Arrested as Hodeidah offensive escalates
Abdulrasheed al-Faqih was arrested this morning by security forces affiliated to the internationally-recognised Yemeni government while travelling to seek medical treatment.
The arrest comes amid mounting concern for some 600,000 civilians in the port city of Hodeidah where Yemeni government forces backed by a Saudi Arabia-led coalition have launched a major military offensive.
Call on UK Government to support human rights defenders
Kate Allen, Amnesty International UK's Director, said: 
"The level of danger facing activists worldwide has reached crisis point. Every day people are threatened, tortured, imprisoned and killed for what they fight for, believe in or simply for who they are. 

"The protection of human rights defenders must be put at the heart of the Foreign Secretary's vision of 'Global Britain' if the UK is to be a credible voice on human rights post-Brexit. Now is the time for the UK to develop a coherent strategy on tackling the global surge in repression of human rights defenders."