Yemen: mounting evidence of high civilian death toll in Saudi-led airstrikes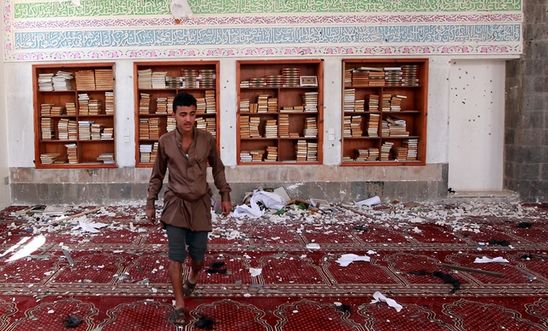 Mosques, homes, schools and other civilian targets have all been hit in the Saudi-led onslaught © MOHAMMED HUWAIS/AFP/Getty Images
'I lost six from my family in the airstrike' - 22-year-old Mansour Mohamed Saleh Shareeh
New eyewitness testimony gathered by Amnesty International in the aftermath of recent airstrikes in the capital Sana'a points to a repeated failure by the Saudi Arabian-led military coalition to take adequate precautions to prevent civilian deaths in Yemen.
Early on 1 May an airstrike hit a residential area in the Bab al-Sha'b district of Sa'wan, in the east of the capital, killing 17 civilians and injuring 17 others. According to eyewitnesses, nine houses were destroyed in the airstrike and the dead included seven women and six children; the injured including six women and one four-year-old boy. 
According to the residents and local council representative of the neighbourhood, Hafizallah Ali, there was no fighting or exchange of fire prior to the airstrike, no fighters or military objectives in the area and the closest air force military base is approximately two kilometres away in al-Khurafi. However, according to the al-Kubsi family, whose house was hit by the airstrike that affected the neighbourhood, Saudi news outlets mentioned that the father of the family Abdullah al-Kubsi, who was killed in the airstrike, was targeted for being a Huthi leader, something the family have vehemently denied.
Amnesty International Middle East and North Africa Deputy Director Said Boumedouha said:
"The Saudi-led coalition must publicly disclose detailed information on all airstrikes carried out in Sana'a on 1 May, including targets and measures taken to avoid incidental harm to civilians.

 

"Even if it was believed that fighters were present in the vicinity, before attacking they still had an obligation to determine whether civilians were present and take measures necessary to avoid or at least minimise civilian casualties."
Harrowing testimonies
Amnesty carried out interviews with local residents and eyewitnesses the day after the attack and heard the horrific experiences of a number of survivors of the airstrike. Mansour Mohamed Saleh Shareeh, 22, told Amnesty how he lost six members of his family in the airstrike and how five, including himself, were injured: 
"At around 1am I woke up to the house shaking due to an airstrike in the distance and then, one or two minutes later, I found myself buried in the debris of my house. I was screaming due to the pain that I felt all over my body and I could hear my father screaming for help under the rubble. The rest were buried in their sleep. 

 

"There were no prior warnings before the airstrike. Twelve of us live in this house as family members had arrived seeking shelter from other targeted neighbourhoods. I lost six from my family in the airstrike: my sisters Ashwak, 20, Nawal, 18, Dalal, 16, Hanan, 15, my nephew Hamad five, and my niece Reemas, four, were all killed. Meanwhile, my father and my mother, both 70, were injured along with another relative, my sister and me. My mother is currently in the intensive care unit in al-Thawra Hospital. I am still in shock and I cannot digest what happened." 
Abdullah Rajih, a local resident, told Amnesty that he had woken up as the electricity had come back on momentarily at approximately 1am: 
"I decided to take the opportunity with the electricity returning to pump some water. That's when I heard the first explosion a couple of kilometres away. Two minutes later, a rocket lands in the house a few doors away from mine, causing my whole house to shake and windows to break and shrapnel flew everywhere. The whole neighbourhood helped in the rescue efforts. We buried everybody in a funeral on Sunday. Amina Mohamed al-Wisla, 28, is a mother of six children and her husband is very ill. She died in the airstrike. The children are now living in a school nearby with their uncle." 
Khadija Ahmed Abdelqader al-Kubsi lost three of her daughters Rajaa, Yusra and Najwa, 13, 15 and 20, her husband and her mother-in-law in the airstrike. She told Amnesty: "Our house got destroyed, my family was killed, only my disabled 19-year-old son survived." 
Mounting civilian deathtoll
Amnesty has documented eight strikes in five densely-populated areas (Sa'dah, Sana'a, Hodeidah, Hajjah and Ibb) prior to the airstrike on Sa'wan. Several of these strikes raise concerns about compliance with the rules of international humanitarian law. 
According to Amnesty's research, at least 139 people, including at least 97 civilians (33 children) were killed during these strikes, and 460 individuals were injured (at least 157 of whom are civilians). Airstrikes and shelling have also destroyed or damaged hospitals, schools, universities, airports, mosques, food transport vehicles, factories, petrol stations, telephone networks, electricity power stations and stadiums. This has left thousands of people without power and suffering from food and petrol shortages.