Yemen: Huthis forced tortured journalists and religious minorities into exile - new report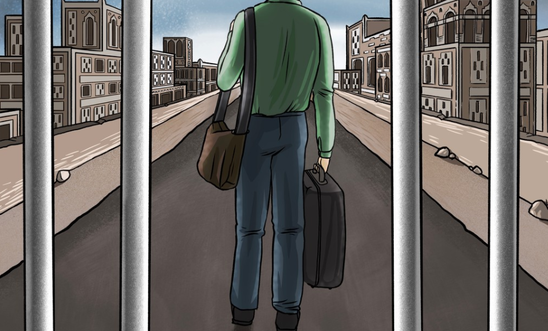 Some of those exiled were sent out of the country in UN-brokered deals © Amnesty International
Huthis unlawfully detained and tortured journalists and Baha'is for up to seven years, before banishing them in UN-brokered deals 
Detainees said they were tortured simply for asking for food or water 
'Prisoners have been used as political pawns' - Heba Morayef
The Huthi authorities in Yemen must stop using arbitrarily-detained prisoners as pawns in ongoing political negotiations, a new report by Amnesty International said today.
Amnesty's 35-page report - Released and Exiled: Torture, unfair trials and forcible exile of Yemenis under Huthi rule - shows how a group of journalists, political opponents and Baha'i religious minority members who were released as part of political deals last year had been unlawfully detained and tortured for up to seven years. 
Upon their release, the Baha'is were forced into exile - with United Nations facilitation - while eight other former detainees were banished to other parts of Yemen. 
In October 2020, Huthi officials released 1,056 prisoners as part of a politically-negotiated deal sponsored by the UN and the International Committee of the Red Cross. While the vast majority of those released were fighters, around two dozen were not. Separately, Huthi officials released six members of the Baha'i religious minority in July 2020. 
Amnesty spoke to 12 of the non-fighters from these two groups: seven journalists, a government employee and four Baha'is. Ten were detained for periods ranging between two and three years before they were informed of charges brought against them, and in nine cases a court had ordered the detainees' release months beforehand. 
All 12 former detainees described being tortured or subjected to other forms of ill-treatment during their captivity, including Huthi interrogators beating them with steel rods, electric cables, weapons and other objects, placing them in stress positions, hosing them with water and repeatedly threatening to kill them. They were also detained in solitary confinement for periods ranging between 20 days and several months. 
One journalist described how he fainted twice from fear and stress after being threatened by his interrogators: 
"The interrogator and others in the room threatened to shoot me. Threatened to kill my parents. They wanted me to name other journalists and students who covered anti-Huthi news … they threatened to … remove my nails one by one. They threatened to give me electric shocks between my legs."
Another detained journalist described being subjected to a terrifying mock execution while held in a counterterrorism branch in Hodeida. He was summoned by guards at night who handcuffed and blindfolded him and showed him a hole in the ground saying, "This is your grave". Detainees also said they were tortured simply for asking for food or water. 
Heba Morayef, Amnesty International's Middle East and North Africa Regional Director, said: 
"This report paints a horrifying picture of the catalogue of abuse endured by these former detainees - including enforced disappearance, detention in inhumane conditions, torture, denial of medical care and facing grossly unfair trials on trumped-up charges.

"As well as putting an immediate end to these abuses, the Huthi authorities must order the immediate and unconditional release of anyone detained solely for peacefully exercising their rights - without exile or banishment.

"Prisoners have been used as political pawns, with forcible exile and displacement resulting from negotiated prisoner deals by the Huthi authorities. 

"The Huthi authorities must put an end to forcible exile - which is an outrageous breach of international law and a damning addition to the long list of other violations that Huthi authorities are responsible for. They must allow the return of exiled individuals to their homes."
Baha'is expelled from Yemen
On 30 July, six Baha'i detainees who were released after up to seven years arbitrary detention were forced by the Huthi authorities to leave Yemen. From jail they were transferred directly to Sana'a airport, where they were made to board a UN flight to Addis Ababa in Ethiopia, suggesting the UN was aware of their forcible exile. The expelled Baha'is remain banished from Yemen to this day. 
A member of the Baha'i community described how he was taken straight to the airport upon his release: 
"I begged them to allow me to see my father but they didn't. He is 80 and I won't be able to see him again. That was the hardest thing in my life, leaving my father behind."
At least eight other detainees released last October told Amnesty that the Huthi authorities transferred them directly from their place of detention to the airport and ordered them to board flights to Aden and Sey'oun, areas under the control of the internationally-recognised Yemeni government. One of the journalists who had been arbitrarily detained for more than five months after a court ordered his release told Amnesty: 
"We wanted to stay in Sana'a but the Huthis refused to release us unconditionally even though the court ruled in favour of our release. We had no other option but to take the deal and leave the north [under Huthi control] ... my home and family are in Sana'a."
Faced with the risk of indefinite detention and torture, Amnesty does not consider their "agreement" to leave their place of origin while in detention to have been voluntary. Forced exile because of religious beliefs or political opposition constitutes a serious violation of international human rights law. The exile of Baha'i detainees violates the prohibition on forced displacement in international humanitarian law and could amount to a war crime.