Yemen: Huthi missile attack on Saudi cities was a possible war crime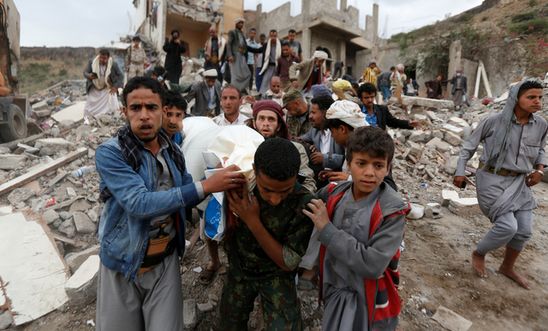 Warning that Saudi-led coalition shouldn't use the Huthi rocket attacks as excuse to carry out further bombing of civilians in Yemen © Khaled Abdullah/REUTERS
Egyptian national on outskirts of Riyadh killed by shrapnel
Attacks should not be used as 'excuse' by Saudi Arabia-led coalition to indiscriminately attack civilians in Yemen
Responding to reports that the Huthi armed group in Yemen fired seven ballistic missiles at airports in Riyadh and other Saudi Arabian cities last night, killing one civilian, Samah Hadid, Amnesty International's Middle East Campaigns Deputy Director, said:
"Launching indiscriminate attacks is prohibited by international humanitarian law and can constitute a war crime. 

"A high death toll may have been averted, possibly due to the missiles being intercepted, but that doesn't let the Huthi armed group off the hook for this reckless and unlawful act. These missiles cannot be precisely targeted at such distances, so their use in this manner unlawfully endangers civilians.

"These unlawful attacks must not be used as an excuse by the Saudi Arabia-led coalition to indiscriminately attack civilians or further exacerbate Yemen's humanitarian crisis by imposing yet more restrictions on importing aid and essential goods such as food, medicine and fuel.

"We have documented extensively how all sides have violated international law in the Yemen conflict over the past three years. 

"Saudi Arabia-led coalition airstrikes have recklessly destroyed and damaged Yemeni homes, hospitals, schools and markets. As a result, thousands of civilians have lost their lives and millions are displaced and in dire need of humanitarian aid. But violations by one side do not give the other side license to flout international humanitarian law."
According to initial media reports, including from the Saudi Arabian state press agency, all seven missiles were intercepted and destroyed, but an Egyptian national was killed after sustaining shrapnel wounds in the aftermath. 
Third anniversary of conflict in Yemen
The Huthi missiles were launched on the third anniversary of the Saudi Arabia-led coalition's initiation of airstrikes in Yemen. Last week, Amnesty said that continuing arms sales to Saudi Arabia from the UK, the USA and other arms-exporting countries was contributing to the "enormous harm" being done to Yemeni civilians. 
As of last month, the UN Office of the High Commissioner for Human Rights reported that more than 5,974 civilians had been killed and more than 9,493 civilians wounded in Yemen since March 2015. According to the UN Office for the Coordination of Humanitarian Affairs, more than 20 million people - or 80% of the population - are in need of humanitarian aid. In a report published earlier this year, the UN Refugee Agency said there are more than two million internally-displaced people in Yemen.