Yemen: Blocks to humanitarian aid delivery violate international law, causing 'dreadful suffering'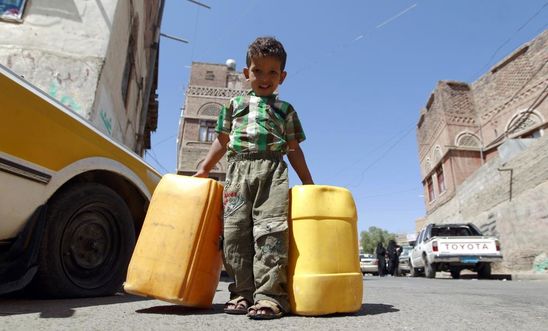 'Unlawful impediments to aid in Yemen are causing dreadful suffering, and depriving people of their basic needs in the midst of an active conflict' - Lama Fakih
Peace talks in Kuwait set to conclude this week should prioritise aid delivery
Restrictions on the delivery of vital humanitarian aid to civilians in Yemen are exacerbating the country's humanitarian crisis and endangering lives, Amnesty International said as it called on all parties to the conflict to allow full and unfettered access to organisations providing critical supplies.
The call comes days after the UK government retracted previous comments the Foreign Office had made in Parliament concerning investigations into Saudi Arabia's conduct in Yemen.
An Amnesty delegation has recently returned from visiting Huthi-controlled parts of Yemen where they spoke to 11 local and international humanitarian aid organisations who described unlawful restrictions on aid imposed by both Huthi and Saudi Arabia-led coalition forces. Amnesty is urging that the removal of impediments to aid delivery is given top priority at the peace talks currently underway in Kuwait, which conclude this week.
During the recent post-Ramadan Eid period at the start of this month, leading up to the resumption of peace talks on 15 July, airstrikes and ground hostilities in various parts of the country re-intensified. That has caused the situation to further deteriorate at a time when half of Yemen's children are chronically malnourished. The World Food Programme recently reported that fewer than one in 10 of those children live to reach the age of five.
Aid workers who spoke to Amnesty consistently described unlawful barriers hampering the delivery of humanitarian assistance in the country. These include the overly burdensome procedures for humanitarian organisations put in place by the Saudi Arabia-led coalition, which entail informing the coalition of all their movements and providing coordinates of aid operations, so that they are not targeted.
Other obstacles identified include threats, intimidation, and the obstruction of humanitarian workers' activities, interference by Huthi security branches in aid operations and the forcible closure of humanitarian programmes as well as the imposition of excessive restrictions on the movement of goods and staff.
Lama Fakih, Senior Crisis Advisor at Amnesty, said:
"Unlawful impediments to aid in Yemen are causing dreadful suffering and depriving people of their basic needs in the midst of an active conflict.

"It is absolutely imperative that negotiators prioritise this issue and take steps to guarantee aid is getting to those who need it most and that aid workers and their operations are not targeted or harassed.

"All parties to the armed conflict have an obligation to allow and facilitate delivery of impartial humanitarian assistance for civilians in need. Blocking such aid is a violation of international humanitarian law. Unfettered humanitarian assistance must be allowed to all those in Yemen desperately in need of food, water and sanitation and all parties need to let the aid workers do their jobs without interference or obstruction."
Coalition failure to protect humanitarian relief personnel and operations
The Saudi Arabia-led coalition demands excessively detailed information including maps, and details about staff and vehicles. These onerous requirements consume considerable time and resources. As a result, some NGOs are unable to, or choose not to, provide this information, placing their staff and supplies in grave danger.
Harassment of humanitarian workers and Bureaucratic restrictions by Huthis
Humanitarian organisations also reported being verbally or physically threatened, detained and questioned by a variety of Huthi committees and Huthi-aligned entities. In some cases, staff were detained or intimidated at gunpoint and humanitarian organisations were forced to halt field activities if they did not agree to unreasonable demands such as handing over the names of beneficiaries receiving their aid.
Stifling layers of bureaucracy imposed by the Huthi-controlled ministries also slow down the approval process of aid delivery. For example, humanitarian organisations have been asked by the Ministry of Planning to submit travel plans for a three month period, which can be extremely challenging in the volatile context of an armed conflict where plans can change at short notice.
The de facto Huthi authorities have also imposed a number of restrictions on access for international humanitarian workers, arbitrarily denying them access or delaying issuing visas and imposing excessively onerous internal movement permits for both international and national staff. According to the UN Office for the Coordination of Humanitarian Affairs, in February the Ministry of Interior in Sana'a refused travel permission to three different UN-led missions from Sana'a to Ibb and Ta'iz. 79% of the population in Ta'iz, Yemen's third largest city, is in need of humanitarian aid.
Interference with independence of aid operations
In some cases, Huthi local authorities, including the Ministry of Planning, have stalled and in some cases stopped assessments of humanitarian needs and programme monitoring from being carried out. They have also attempted to influence who humanitarian organisations hire or distribute aid to. This contravenes core humanitarian principles of independence and impartiality as well as internationally accepted best practice. It also impedes effective humanitarian operations, from planning to delivery.
The 2016 Yemen Humanitarian Response Plan requests US $1.8 billion for aid. Yet by the end of June, only 25% of that funding had been received.
Under international humanitarian law, all parties to the conflict must grant humanitarian workers freedom of movement, and protect them from attack, harassment and arbitrary detention. They must also ensure rapid and unimpeded delivery of impartial humanitarian relief for civilians in need.