Yemen: BAE Systems and other arms companies face legal challenge at The Hague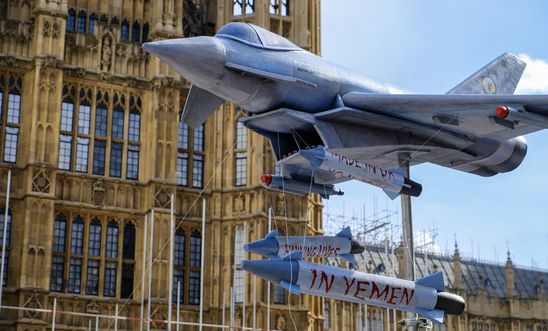 A mock Typhoon fighter jet taken to Parliament by Amnesty activists earlier this year to protest at the UK's sale of arms to Saudi Arabia © Amnesty International
International Criminal Court asked to investigate corporate executives and government officials 
UK companies BAE Systems, Raytheon and MBDA among those named
'An ICC investigation would be a historic step towards holding arms company executives accountable for their business decisions' - Patrick Wilcken
The International Criminal Court must investigate the role of European arms companies in possible war crimes in Yemen, Amnesty International said today, as it joined an official legal request to the court at The Hague.
The European Centre for Constitutional and Human Rights has submitted a 300-page "communication" and supporting evidence to the ICC's Office of the Prosecutor, calling on the court to investigate whether high-ranking officials, from both European companies and governments, have criminal responsibility for supplying arms used by members of the Saudi Arabia/UAE-led military coalition in potential war crimes in Yemen. 
The submission - which is supported by Amnesty, Campaign Against Arms Trade, Centre Delàs, Mwatana for Human Rights and Rete Disarmo - requests an ICC investigation into arms firms and governments over their potential complicity in 26 specific airstrikes.
The legal request - focusing on the role of ten arms firms, including British companies BAE Systems Plc, Raytheon Systems Ltd and MBDA UK Ltd - asks the Office of the Prosecutor at the ICC to investigate corporate executives, as well as high-ranking government officials from various arms export licensing authorities, for their potential complicity in possible crimes under international law.
The request provides factual information on 26 airstrikes - on residential buildings, schools, hospitals, a museum and world heritage sites - which may amount to war crimes under the Rome Statute of the International Criminal Court. 
Despite considerable evidence of serious international humanitarian law violations during the Yemen conflict, several European countries have continued to export arms to members of the Saudi Arabia/UAE-led coalition - a flagrant violation of the international Arms Trade Treaty, as well as European and domestic laws. The ICC may exercise its criminal competence over genocide, crimes against humanity and war crimes committed in any territory subject to the jurisdiction of a state party (all EU countries are parties to the Rome Statute) or over their nationals, wherever these crimes are committed.
Patrick Wilcken, Amnesty International's Arms Control Researcher, said: 
"An ICC investigation would be a historic step towards holding arms company executives accountable for their business decisions.

"The reality is that everybody involved in selling weapons to the Saudi Arabia/UAE-led Coalition bears some responsibility for how those weapons are used. 

"Company executives have had ample time and access to plenty of reliable information to reassess their decisions to supply the Coalition in the light of the horrific events in Yemen. 

"Hiding behind flawed government decision-making is not good enough - now they could face criminal charges before an international criminal court." 
Major European arms companies
In addition to the UK companies BAE Systems Plc, Raytheon Systems Ltd and MBDA UK Ltd, the European Centre for Constitutional and Human Rights' legal request names:
Airbus Defence and Space S.A.(Spain)
Airbus Defence and Space GmbH (Germany)
Dassault Aviation S.A. (France)
Leonardo S.p.A. (Italy)
MBDA France S.A.S. (France)
Rheinmetall AG (Germany), through its subsidiary RWM Italia S.p.A. (Italy)
and Thales (France)