West Papua: Police must stop discrimination and unlawful use of force against students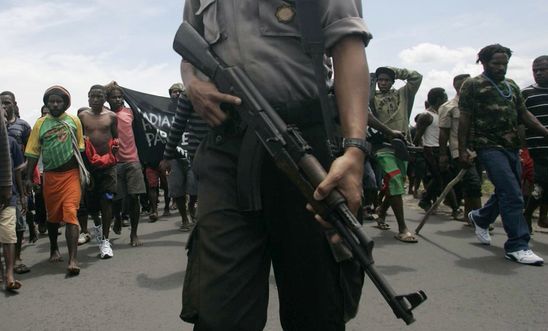 Following yesterday's events in West Papua Province, during which the local parliament building and a penitentiary were burned down and homes were destroyed, Usman Hamid, Amnesty International Indonesia's Executive Director said:
"Indonesian authorities must act promptly to deescalate tensions in West Papua Province and guarantee that people who wish to protest peacefully can continue to do so.

"Security officers must refrain from using unnecessary or excessive force, prioritise dialogue with protesters and not use the violent acts of a few as a pretext to restrict or impede the rest from exercising their rights.

"Where investigations are opened for alleged offences committed during the protests, these must be for internationally recognised crimes and proportionate to the alleged offence.

"It is also crucial that the National Police addresses the root cause of the unrest by promptly launching an investigation into the allegations of discrimination and unlawful use of force against Papuan students in Surabaya, Semarang and Malang over the weekend.

"The recent allegations of discrimination by the police are only the latest accusations of such treatment over the years. The police have so far failed to protect Papuans from any form of discrimination, sending a worrying message that these acts are tolerated by the authorities."
Ongoing protests
On 15 August, a group of Papuan students staged a protest in Malang, East Java, to reject the 1962 New York Agreement which transferred control of the territory of Papua from the Netherlands to the United Nations.
Demonstrations went ahead despite police refusing to grant the Papuan students in Malang permission to hold the protest, citing "security reasons".
The situation worsened when protesters were attacked by groups of Malang residents, and Malang deputy mayor made a discriminatory statement saying: "we will see, we have an option on the table to return them [to Papua]".
In Surabaya, a group from local religious organisations attacked a dormitory of Papuan students, accusing them of destroying the national flag of Indonesia and throwing it in the sewer before the celebration of Indonesia's Independence Day, and calling derogatory slurs including "monkey, dog, animal and pig".
Instead of dispersing the crowd that was attacking the students, police surrounded the dormitory and asked Papuan students to turn themselves in.
The standoff continued the following day; when police fired tear gas and arresting 43 Papuan students. The police took them in for questioning, but released them on Sunday after finding no evidence that they had destroyed an Indonesian flag.
The incidents in Surabaya and Malang triggered Papuans to stage protests in Manokwari and Sorong in West Papua, during which the local legislative council in Manokwari was burned down. They also destroyed public facilities and residents' homes. In addition, crowds also disrupted activities at an airport and burned a penitentiary in Sorong.
According to international law and standards, the exercise of the right to freedom of peaceful assembly should not be subject to the permission of government authorities.