Warning that Brexit must not mean EU arms and surveillance safeguards are abandoned in UK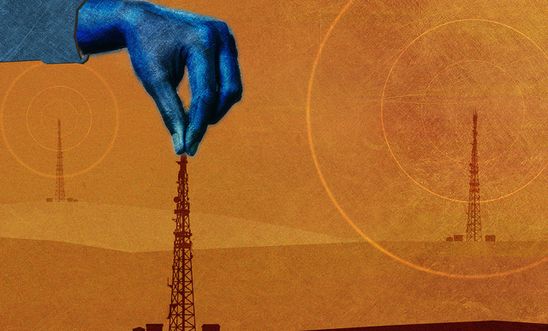 BAE Systems has exported internet surveillance systems to the UAE, Qatar, Oman, Morocco and Algeria © Amnesty International (illustration Tim Werwie)
'Brexit mustn't mean weaker regulation over the UK's selling of arms and surveillance equipment around the world' - Oliver Feeley-Sprague
Amnesty International has welcomed a vote in the European Parliament today aimed at stopping the EU's export of surveillance equipment to countries with poor human rights records, but sounded a warning that Brexit must not mean that such safeguards are no longer applied over UK-manufactured arms and surveillance equipment.
The initiative on the EU's "export control regime for dual-use items" which have civilian and military uses - approved by a 571-29 vote in the European Parliament this afternoon - comes after the reported use of surveillance technologies to abuse journalists, activists and others who work to defend rights.  
Last year, it was revealed that BAE Systems, the UK's largest arms manufacturer, had been exporting internet surveillance systems capable of carrying out mass surveillance to Saudi Arabia, the UAE, Qatar, Oman, Morocco and Algeria.
The global trade in surveillance technology first came to wide public notice during the "Arab Spring" protests, when numerous security agencies across the region were found to have been using surveillance systems exported from EU countries.
Though still subject to a parliamentary process at the EU, if today's vote leads to the adoption of new legal safeguards within EU law such exports would in future be subject to a licensing control system similar to that currently operating for arms and other military equipment. 
EU countries would be required to deny licence applications if the export of a surveillance technology was deemed likely to lead to serious human rights violations. In particular, exporting countries would be required to consider the legal framework governing the use of the surveillance technology in the country of export, and assess its likely impact on the right to privacy, the right to data protection, freedom of speech, and freedom of assembly and association.
Amnesty is insisting that the UK's withdrawal from the European Union must not place these safeguards at risk. 
Oliver Feeley-Sprague, Amnesty International UK's Arms Control Director, said:
"We have to avoid a scenario where the UK's withdrawal from the EU leads to a dangerous weakening of controls over the UK's exporting of arms and surveillance equipment.

"Up until now the UK has worked alongside its EU partners to ensure that all EU countries operate within the same set of rules. 

"Current EU arms controls aren't perfect - but they're multilateral, which is the only sensible approach to regulating the export of weapons and related equipment. 

"The UK's security interests are best served by maintaining the closest possible relationship to EU policy when it comes to the export of arms and surveillance equipment.

"Brexit mustn't mean weaker regulation over the UK's selling of arms and surveillance equipment around the world."