Wales: Cardiff comedy night will shine spotlight on UK nationals jailed in Iran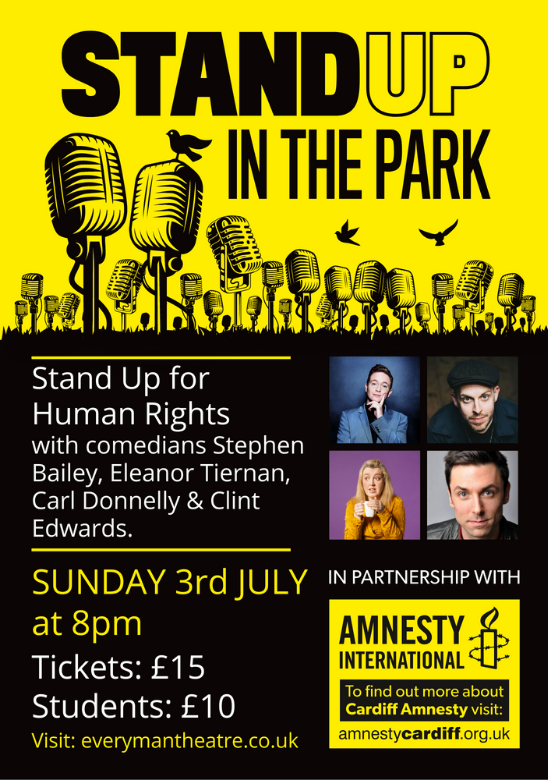 Top comics Stephen Bailey, Eleanor Tiernan, Carl Donnelly and Clint Edwards set to star at annual comedy event 
Previous events have focused on Nazanin Zaghari-Ratcliffe - this year's will highlight Morad Tahbaz and Mehran Raoof
'The Government must ensure that no-one is left behind' - Lauren Caley
A high-profile comedy night in Cardiff on 3 July is set to shine a spotlight on the plight of UK nationals arbitrarily detained in Iran.
The one-night-only Stand Up in the Park 2022 comedy event (Sophia Gardens, Cardiff, 8pm) brings together leading comedians Stephen Bailey, Eleanor Tiernan and Carl Donnelly - compered by Clint Edwards - for a special evening of open-air comedy, with a proportion of the proceeds going towards Amnesty International's human rights work.
Organised by Amnesty's Cardiff group and Cardiff's Everyman Theatre's 'Open Air Theatre Festival', the evening is part of Amnesty's No-one Left Behind campaign which is calling for the Government to step up efforts to secure the release of all British nationals arbitrarily detained in Iran.  
Two of the British nationals in question are Morad Tahbaz and Mehran Raoof (see below), who are being held in Tehran's notorious Evin Prison after grossly unfair trials on spurious charges. For several years Iran has arbitrarily jailed a number of foreign or dual-nationals, apparently as a means of exerting diplomatic pressure on the UK and other countries. Earlier this year, Nazanin Zaghari-Ratcliffe and Anoosheh Ashoori were released after lengthy unfair jail terms and allowed to return to the UK.
Lauren Caley, Chair of Amnesty International's Cardiff group, said: 
"We were thrilled to see Nazanin and Anoosheh free and able to return home to their families after such a long and terrible ordeal. But the deal should have extended to all British nationals arbitrarily imprisoned in Iran. Morad and Mehran continue to be unjustly detained at risk to their health and wellbeing. The Government must ensure that no-one is left behind and secure their immediate release."
Peter Harding-Roberts, Chair of the Cardiff Open Air Theatre Festival, said:
"All of us in Everyman Theatre are delighted to welcome Amnesty back to Sophia Gardens after an enforced two-year break. When I first met Richard Ratcliffe at the festival in 2017, I hoped to see Nazanin freed by the following summer. That was not to be, but I am so so pleased that I can finally borrow some words from Martin Luther King and say, 'Free at last, free at last, thank god almighty she is free at last'."
British nationals arbitrarily jailed
-Morad Tahbaz, 66, is a wildlife conservationist who has been arbitrarily jailed in Iran along with seven other conservationists for more than four years. In 2019, he was given a ten-year jail sentence after an unfair trial. He suffers from serious health conditions, including a history of cancer, and the Iranian authorities have prevented him from receiving the medical care he needs. In addition, Tahbaz's wife Vida has been placed under a travel ban by the Iranian authorities.
-Mehran Raoof, 65, is a trade unionist who was arrested in October 2020 as part of a crackdown on labour activists in Iran. Last August, a Revolutionary Court in Iran convicted Raoof and German-Iranian activist Nahid Taghavi of national security-related charges and sentenced them to ten years and eight months in prison following a grossly unfair trial.
Tickets for Stand Up in the Park 2022 are £15 (£10 for students) and are available here.