Vigil for jailed British woman Nazanin Zaghari-Ratcliffe - London, Monday 16 January (4pm)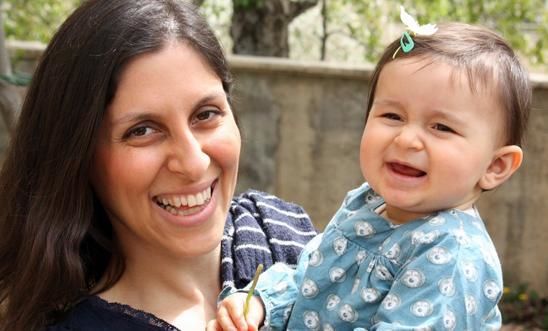 Nazanin Zaghari-Ratcliffe has been designated a prisoner of conscience by Amnesty © Private
Husband Richard to be joined by campaigners with 'Free Nazanin' placards
A vigil for the jailed British woman Nazanin Zaghari-Ratcliffe is being held outside the Iranian Embassy in London on Monday 16 January (4-6pm).
Ms Zaghari-Ratcliffe, 38, is serving a five-year jail sentence in Tehran's notorious Evin Prison after being convicted last year in an unfair trial by a Revolutionary Court on unspecified "national security charges".
Amnesty has designated Zaghari-Ratcliffe a prisoner of conscience and is calling for her immediate release. The 38-year-old charity worker has suffered a serious decline in her physical and mental health since being convicted, and in October she wrote a suicide letter to her husband Richard.
Monday's vigil is timed to mark one year since the Washington Post journalist Jason Rezaian and other US-Iranian dual-nationals were released from prison in Iran. Last year the Canadian-Iranian academic Homa Hoodfar was also released from jail in Iran, reportedly after the Canadian government were "engaged at the highest levels" on her case.
The vigil also marks the fact that Zaghari-Ratcliffe has spent the Christmas holiday period separated from her family. Just ahead of Christmas, Amnesty said the prison authorities appeared to be pressuring Zaghari-Ratcliffe into giving up custody of her two-year-old daughter Gabriella by saying she should be prepared to take the young girl into prison with her or renounce custody rights.
Richard Ratcliffe, who has led a high-profile campaign on his wife's behalf, will be attending Monday's vigil and deliver a letter to the Iranian Embassy renewing his call for her release. Amnesty supporters with "Free Nazanin" placards will also be in attendance.
A campaign for Zaghari-Ratcliffe's release (part of Amnesty's "Write For Rights"
initiative
 has to date gathered over 30,000 messages of support for Ms Zaghari-Ratcliffe, messages which Amnesty is printing off and sending to her in Evin Prison. In addition, numerous supporters and well-wishers have been sending letters and cards to her in Tehran.
Amnesty International UK's Individuals At Risk Campaign Manager Kathy Voss said:
"With other dual-nationals getting released in Iran, it's ever more worrying that Nazanin and other UK-Iranians are still languishing behind bars.

 

"This vigil is about keeping Nazanin's case in the minds of the authorities back in Tehran.

 

"We urgently need to see Nazanin freed and allowed to return to Britain with her young daughter."
UK-Iranian dual nationals
Amnesty has been campaigning for justice for Ms Zaghari-Ratcliffe as well as other UK-Iranian dual nationals, including the businessman Kamal Foroughi. Mr Foroughi is a 77-year-old consultant with the oil and gas company Petronas who has served nearly six years of a seven-year jail sentence for espionage. Mr Foroughi's release is long overdue under Iran's own early-release laws and Amnesty has called for him to be released immediately.
For more on Iran and human rights, go
here
.