USA: Santa Clarita school shooting a painful tragedy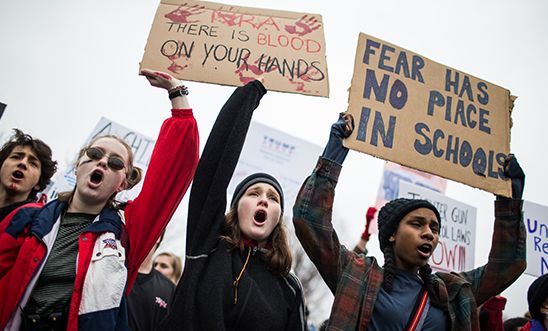 © Getty Images
Amnesty calls for urgent and meaningful gun violence prevention
Responding to reports of a school shooting today in California, Ernest Coverson, Amnesty International USA's campaign manager for the End Gun Violence Campaign, said:
"No child should ever go to school with the fear of never coming home again. The gun violence in this country is a human rights crisis, which our leaders continue to ignore at the expense of all our children. We stand today with the Santa Clarita community in their pain.
"A whole generation of children in the U.S. are growing up afraid to go to school for fear of being shot - this is shameful. This country's leaders can no longer continue to prioritise guns above our children's lives. It's well past time to pass legislation for meaningful gun violence prevention."
Gun violence in the USA
Amnesty International USA's report, In The Line of Fire, examines how gun violence impacts children all across the U.S.. High rates of gun ownership, weak gun violence prevention laws and readily available (often unsupervised) firearms, make U.S. children much more vulnerable to death through gun violence than children in other high-income countries. U.S. states with the highest rates of gun ownership also have the highest rates of gun death, including among children.
Nearly 40% of children in the U.S. exposed to a shooting develop post-traumatic stress disorder (PTSD). Nearly 60% of high school seniors in the U.S. report fears of a shooting in their school or community. Even if a child survives a gun-related incident, long-term exposure to gun violence can lead to numerous developmental problems, including impairment of brain function, inability to focus, trouble following directions, difficulties retaining and utilising memory and difficulties engaging in organisational and decision-making tasks. They are also more susceptible to a range of mental health issues such as anxiety, post-traumatic stress disorder and depression. If not adequately addressed, these issues often cause long term problems including performance issues at school, issues with finding and keeping a job, physical health problems, trust issues in developing relationships, and violent and aggressive behavior.
This week, Amnesty was in Ecuador for an Inter-American Commission on Human Rights (IACHR) hearing focusing on survivors of gun violence in the United States. Amnesty International USA's testimony focus on much needed international attention to the urgent and escalating problem of gun violence in the United States, which has become so prevalent that it amounts to a human rights crisis.