UN: Russia and China's abusive use of veto "shameful"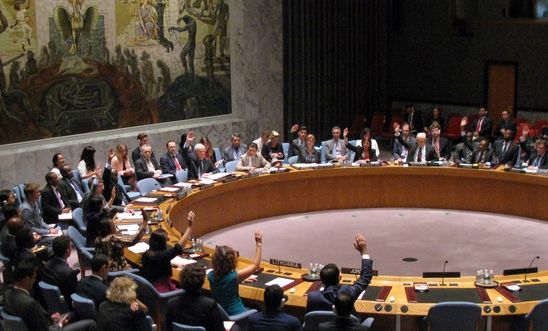 © AFP/ Getty
Russia and China have again abused their veto power at the United Nations Security Council today, following a vote on a draft resolution that would have helped ensure accountability for the use and production of chemical weapons by all parties to the conflict in Syria, said Amnesty International.
Sherine Tadros, head of the UN office in New York for Amnesty International, said:
"By vetoing this resolution Russia and China have displayed a callous disregard for the lives of millions of Syrians. Both states are parties to the Chemical Weapons Convention– there is simply no excuse for their vetoes today.

"For six years Russia, with the support of China, has blocked Security Council decisions that would have punitive consequences for the Syrian government. This behavior prevents justice and emboldens all parties to the conflict in Syria to act with indifference to international law. The message coming from the international community is that when it comes to Syria, there are no red lines." 
Russia has now used its veto power seven times on draft resolutions on Syria since the start of the crisis. Today's draft proposed sanctions on designated individuals linked to the production of chemical weapons in Syria, as well as an embargo on any materials that could be used to produce chemical weapons. The draft was a follow-up to the September 2013 resolution 2118 on chemical weapons in Syria, that was co-authored by Russia and the USA, and that imposes measures under Chapter VII of the UN Charter on the "unauthorized transfer of chemical weapons, or any use of chemical weapons by anyone in the Syrian Arab Republic".
In August 2015, the Security Council also unanimously adopted resolution 2235 which led to the Joint Investigative Mechanism (JIM) that aimed at identifying those responsible for chemical attacks in Syria. Since then, the mechanism has identified the Syrian government as well as the armed group calling itself the Islamic State, as having carried out chemical attacks.
"Russia's shameful vote today is yet another example of how it uses its veto power to make sure its ally, the Syrian government, evades consequences for its war crimes and crimes against humanity. It is of monumental importance for the newly appointed UN Secretary General, as well as Security Council members, to speak out forcefully when states fail to vote in favour of draft resolutions aimed at preventing or ending war crimes. The Security Council is being transformed into an instrument for political posturing between the permanent members and the people of Syria are paying the ultimate price," said Sherine Tadros.