UN refugee summit: 'race to the bottom' forcing refugees into smugglers' hands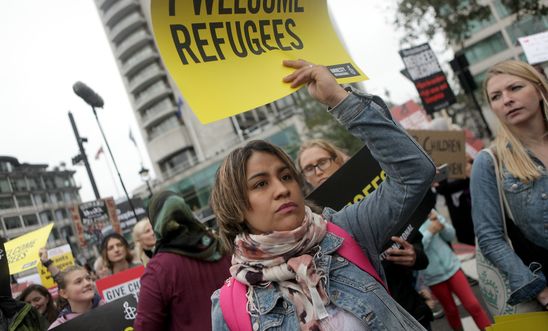 Campaigners at a rally in central London on Saturday © Marie-Anne Ventoura
'This disastrous approach has triggered a race to the bottom as country after country has raised its walls and lowered its standards for those seeking asylum' - Kate Allen
In response to Theresa May's speech at the UN summit on refugees in New York today Amnesty International said that the Prime Minister's refusal to share responsibility for the global refugee crisis is having disastrous consequences and calls upon the government to urgently change tack.
Kate Allen, director of Amnesty International UK who is currently in New York for the UN Summit, said: 
"Today's refugee crisis is global and has been more than a decade in the making. Yet, the Prime Minister's response is just more of the same - keeping people who are fleeing persecution stuck in intolerable and unsafe conditions in poor and unstable countries neighbouring conflict.

"This disastrous approach has triggered a race to the bottom as country after country has raised its walls and lowered its standards for those seeking asylum. This is simply forcing ever more refugees to turn to people smugglers and make dangerous journeys in the hope of finding somewhere safe for themselves and their family to rebuild their lives."
Amnesty welcomes the government's commitment to provide increased humanitarian funding in response to the global refugee crisis but is calling for greater responsibility for hosting and assisting refugees.
Kate Allen added:
"The UK is one of the richest countries in the world, yet it hosts less than one per cent of the world's refugee population. Our government is failing to play a full part in providing sanctuary for those fleeing conflict and persecution and this urgently needs to change.

"Just last week we saw the impact of the UK Government's policy when a young boy from Afghanistan died trying to make it to the UK because he was so desperate to join his family here. How many more needless deaths must we witness before these policies are changed?"
Theresa May outlined three specific principles that should guide the UK's approach, which include that refugees should claim asylum in the first safe country they reach and that there needs to be a better distinction between refugees and economic migrants.
Kate Allen added:
"Theresa May is creating a false dichotomy between people in refugee camps far away and people seeking asylum in Europe and the UK. It has long been clear that the great majority of people crossing the Mediterranean are fleeing war and brutality. Rather than falsely dismissing the need for asylum before they've even been able to make their claims, we should be establishing safe reception for them and sharing responsibility for assessing their claims and meeting their needs.

"International law makes it plain that everyone is entitled to seek asylum in other countries. Nothing requires that to be done in any particular country. Still less does it require that claims be made in countries neighbouring conflict, which already host by far the greater majority of the world's refugees. Pursuing this nonsense is as unsustainable as it is cruelly unfair."