Ukraine: investigate deadly artillery strike on civilian bus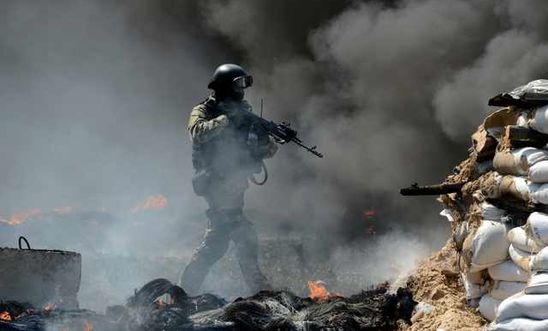 A Ukrainian special forces member in the eastern Ukrainian city of Slavyansk last year © KIRILL KUDRYAVTSEV/AFP/Getty Images
'The world needs to know the truth about this tragic incident' - Denis Krivosheev
An artillery strike on a bus that killed ten civilians and wounded 18 others in eastern Ukraine must be investigated urgently as it could amount to a violation of international humanitarian law, Amnesty International said. 
An unguided Grad artillery system was apparently used in the strike, but at present it is unclear where the attack came from. It hit a civilian bus which was passing through a military checkpoint controlled by pro-Kiev forces in the town of Volnovakha. 
Photographs circulated on social media in the aftermath showed the bus with its windows blown out and its side pock-marked with shrapnel blast marks. Blood can be seen staining the snow alongside the vehicle.   
Shortly after the attack, pro-separatist news sites reported that the Ukrainian checkpoint had been destroyed. But a senior representative of the self-styled Donetsk People's Republic, the area's de facto authorities, later reportedly claimed their artillery was unable to reach the checkpoint. 
Amnesty International Europe and Central Asia Deputy Director Denis Krivosheev said:
 

"The world needs to know the truth about this tragic incident. It must be investigated thoroughly, impartially and independently, as a possible violation of the laws of war.   

 

"Those responsible for this incident either failed to take steps to protect civilians, as demanded by international humanitarian law, or it was a deliberate act which would constitute a war crime."
Mounting death toll
A supposed ceasefire was agreed in eastern Ukraine last September, but upwards of 1,400 people have been killed since then as both sides have increasingly engaged in tit-for-tat reprisals. In all, almost 5,000 people have died since the conflict broke out last year.