Ukraine: authorities failing women's rights activists by pandering to far-right groups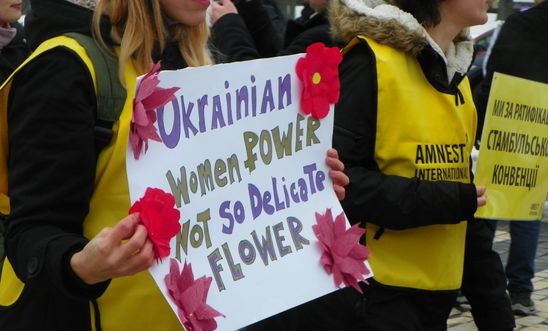 Olena Shevchenko, an organiser of the International Women's Day marches that took place in Ukraine earlier this month and were met with extreme right-wing violence, is due in court today, for alleged "violation of order to conduct public demonstrations".
Attacks on the peaceful women's rights marchers took place during and following demonstrations to protest against domestic and sexual abuse, which took place in the cities of Kiev, Lviv and Uzhgorod on 8 March. 
In Kiev, the police failed to stop attackers who threw paint at the marchers, yet they detained protest organiser, Shevchenko. On 12 March, Shevchenko's court hearing had to be adjourned after around 20 men entered the court and threatened her and her lawyer, Oksana Guz. Shevchenko and Guz had to call a private security service so they could leave the premises in safety.
Ahead of Shevchenko's subsequent court hearing today, Oksana Pokalchuk, Amnesty International Ukraine's Director, said:
"By prosecuting Olena Shevchenko, the Ukrainian authorities have underscored just how far they are willing to pander to the far-right groups whose threats and violence marred International Women's Day protests across the country.

"The ugly scenes we saw in court once again prove that the Ukrainian authorities are failing to protect women rights activists from far-right violence, whether coming from organised movements, informal networks or individuals. It's giving rise to a deeply troubling situation where radicals believe they can assault, threaten and humiliate women with total impunity."
Attacks in Uzhgorod and Lviv
During the marches that took place in Uzhgorod, six attackers who threw paint at the women's rights activists and threatened them with violence were detained and released shortly afterwards. In Lviv, attackers threw bricks at a tram carrying activists who were leaving the demonstration. Despite available video evidence of the attack, no-one was arrested. Later in the day, another participant in the demonstration suffered a fractured skull after reportedly being beaten by far-right activists near his home.