UK/Iran: daughters of Nazanin Zaghari-Ratcliffe and Anoosheh Ashoori want parents 'home for Christmas'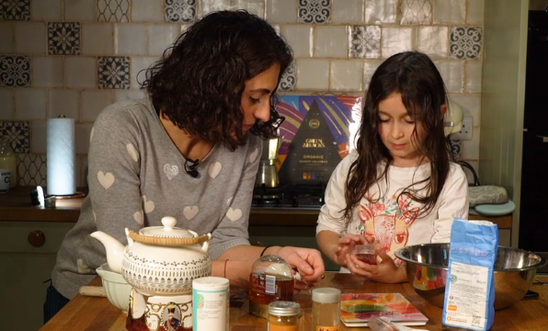 Elika and Gabriella in a still from the Two Daughters film © Amnesty International UK/Darius Bazargan
Elika, daughter of detained dual-national Ashoori, shown discussing emotional heartache with Zaghari-Ratcliffe's daughter Gabriella  
Two daughters bake cakes together, while Gabriella makes Christmas card for Prime Minister Boris Johnson
'This is the story of two ordinary families caught up in an almost unimaginable situation' - Kate Allen
The six-year-old daughter of Nazanin Zaghari-Ratcliffe has spoken of wanting her "mummy home for Christmas" in a powerful new Amnesty International video made to highlight the plight of Zaghari-Ratcliffe and fellow detained UK-Iranian national Anoosheh Ashoori. 
Gabriella Ratcliffe appears in the 10-minute video - called "Two Daughters" (alongside Elika Ashoori, 34, daughter of the retired 66-year-old engineer arbitrarily detained in Iran in inhumane conditions since August 2017.  
Ashoori and Zaghari-Ratcliffe have both received grossly unfair trials on trumped-up national security-related charges, and the two families have joined forces to campaign for the pair's freedom.
The Two Daughters film - which says it is about one daughter with a mother who is "very well known" and one "whose father is less so" - shows Elika and Gabriella discussing what they miss most due to their parent's absence. Elika says she especially misses her father on birthdays and at Christmas, while Gabriella most misses her mother at nightimes, when she "cries". 
Gabriella, who was 22 months old at the time of her mother's arrest in April 2016, returned to Britain last year to be reunited with her father Richard Ratcliffe, who has mounted a high-profile campaign for his wife's release. In the video, filmed last month at the Ratcliffe family home in north London and the Ashooris' home in south London, Gabriella is seen making a large Christmas card for Boris Johnson containing a request for the Prime Minister to help secure her mother's freedom. Decorated with a Santa hat, and with a giant B and J in "Boris Johnson" picked out in bright colours, Gabriella's card bears the message:
"Dear Boris Johnson, please can you bring my mummy home for Christmas. She has been good. When she comes back I want to cuddle her first and then go to the toy shop with her. Merry Christmas to you and your family. Love Gabriella. xxx"
The very moving film - part of a campaign to secure the release of Zaghari-Ratcliffe and Ashoori before Christmas - ends with a shot of Elika and Gabriella looking at Christmas trees in brightly-decorated shop windows in central London's Regent Street. 
Kate Allen, Director at Amnesty International UK, said:
"This is the story of two ordinary families caught up in an almost unimaginable situation - both victims of Iran's notoriously unjust national security charges.

"For too long, UK-Iranian dual-nationals like Nazanin and Anoosheh have been trapped in Iranian jail cells unsure whether the UK was genuinely doing all it could to secure their freedom. 

"With the terrifying prospect of another sham trial for Nazanin looming, and with Anoosheh at acute risk from coronavirus in Evin Prison, there's no time to lose.

"Like Gabriella says, Boris Johnson needs to do everything he can to get Nazanin and Anoosheh home for Christmas."
Anoosheh Ashoori at Covid risk
Anoosheh Ashoori's wife Sherry also appears in the Two Daughters video, where she reflects on the "horrific" nature of her husband's three-year detention in Iran. Like Zaghari-Ratcliffe, Ashoori - who lives in the UK - was arrested in Iran while visiting a relative, his ailing elderly mother. The following year he was jailed for ten years (with two years to run concurrently) after a grossly unfair trial that saw torture-tainted "confessions" used to convict him of "cooperating with a hostile state."
In the Amnesty video, Sherry is shown at home phoning her husband in jail in Iran, with Anoosheh answering the call and saying "I am just missing my family. That is the only thing I can say". Their call is however abruptly disconnected. 
There are serious concerns for 66-year-old Ashoori's health, as he has a number of health conditions. Elika Ashoori recently tweeted about a COVID-19 outbreak in Evin Prison - where her father is held - amid growing fears over his vulnerability to the virus in the jail. In March, Zaghari-Ratcliffe - like numerous prisoners in Iran - was released from Evin on a temporary furlough basis after fears then that coronavirus could infect many of those held in the jail. Amnesty is currently extremely concerned that Ashoori could contract coronavirus in Evin, and is calling on the UK government to support Ashoori's lawyers in their ongoing efforts to urgently secure his release on furlough.
UK government advice
There are longstanding concerns that the UK government has failed to properly prioritise the cases of Nazanin Zaghari-Ratcliffe and Anoosheh Ashoori. At the time of their original arrest, the families of both detainees were originally advised by UK officials to remain quiet about their relative's detention.