UK/Iran: Boris Johnson must 'break the deadlock' and get Nazanin Zaghari-Ratcliffe home during crucial Iran talks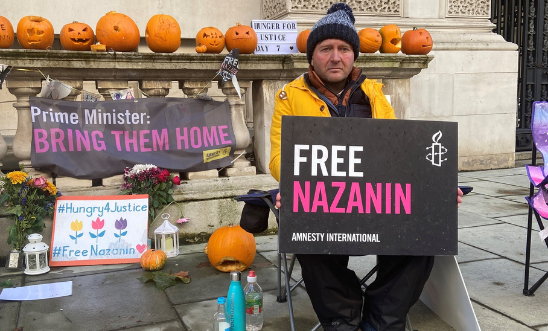 Richard Ratcliffe on hunger strike (day seven) outside the foreign office
Richard Ratcliffe on day 18 of hunger strike vows to continue until Government acts to free Nazanin
UK Foreign Office officials and Deputy Foreign Minister Ali Bagheri Kani reported to meet tomorrow to resume long-delayed talks on 'Iran nuclear deal'
'This is a crucial opportunity that the UK can't afford to miss' - Sacha Deshmukh
Amnesty International UK has written to the Prime Minister requesting his urgent intervention during a meeting with Iran tomorrow to secure Nazanin Zaghari-Ratcliffe's release and bring Richard Ratcliffe's hunger strike to an end.
There are growing concerns for the welfare of Richard Ratcliffe as he has entered day 18 of a hunger strike camped outside the Foreign Office.
A meeting between UK and Iranian Foreign Office officials is due to take place tomorrow to resume the 'Iran nuclear deal' negotiations. It is a crucial opportunity to ensure the safe return of arbitrarily-detained UK nationals in Iran, including Nazanin and Anoosheh Ashoori, whose family have been protesting his detention alongside Richard Ratcliffe's hunger strike.
Sacha Deshmukh, Amnesty International UK's CEO, said:
"The meeting tomorrow must be used to commit to the release of Nazanin, Anoosheh and all arbitrarily-detained UK nationals in Iran – it's a crucial opportunity that the UK can't afford to miss.

"Richard Ratcliffe's hunger strike is not a pantomime - he has vowed to remain on hunger strike until Nazanin's case has been addressed. Time is running out and we urgently need the Prime Minister to intervene and break the deadlock.

"Richard's story has not only moved the public - MPs across the House have visited him in large numbers to show their support and solidarity.

"The Government needs to grant diplomatic protection status to Anoosheh as soon as possible and set out a clearly-articulated strategy for bringing Nazanin and other arbitrarily-detained British nationals back home from Iran.

"It's high time all detained UK nationals in Iran are reunited with their families."
Government commitments
Richard Ratcliffe's hunger strike comes after Liz Truss became the latest Foreign Secretary to oversee efforts to secure the release and return of arbitrarily-detained British nationals in Iran.
In September, Truss met her Iranian counterpart - Iranian Foreign Minister Hossein Amir Abdollahian – at the UN General Assembly in New York. The Foreign Secretary committed to "call for Iran to immediately release Nazanin Zaghari-Ratcliffe, Anoosheh Ashoori, Morad Tahbaz and all UK nationals unjustly trapped in Iran".
After the meeting, the Foreign Secretary said she had called for "the release and return home" of British detainees in Iran.
 The following day, which marked 2,000 days of Nazanin's detention, Truss said, "we are working tirelessly to secure her return home to her family".
The last time the Prime Minister met with Richard and Gabriella, his and Nazanin's daughter, was in January. He reiterated the UK's support to bring Nazanin home but since the meeting Nazanin's situation has deteriorated. On 16 October her appeal was refused, and she faces return to prison to serve time on a second sentence at any moment. On the same day, Anoosheh Ashoori was informed that his application for conditional release was also refused.