UK: Threat of High Court action spurs review of corporate conspiracy claim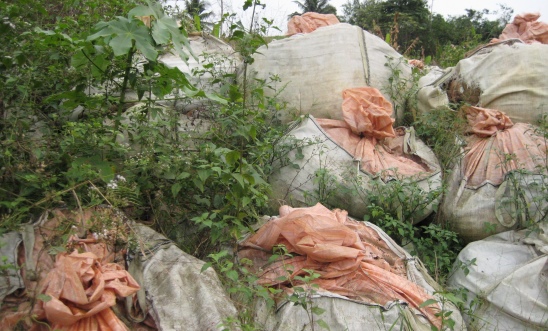 Image: Bags of waste material left exposed in Abidjan more than two years after the dumping of toxic waste, February 2009, Cote d'Ivoire. 
UK authorities must launch a long-overdue criminal investigation into a British company's role in one of the worst toxic waste dumping incidents of the last decade, Amnesty International said today after the Environment Agency finally agreed to review evidence submitted by the organization.
It took the threat of court action for the agency to backpedal from its earlier refusal to review a legal brief making the case that UK-based Trafigura Limited may have conspired to dump the toxic waste in Côte d'Ivoire.
The August 2006 incident triggered an environmental and health disaster in Abidjan: at least 15 people are reported to have died, more than 100,000 sought urgent medical assistance and contamination still lingers despite extensive clean-up.
'Refusing to investigate Trafigura's role in what was a devastating crime showed contempt for the UK's international human rights obligations. The glaring absence of any deterrent gives UK-based corporations a green light to commit serious abuses abroad,' said Audrey Gaughran, Director of Global Issues at Amnesty International.
'Justice systems are woefully ill-prepared to deliver accountability when companies operating across borders commit abuses. No corporation should be above the law. The Environment Agency can help to change this, by launching a full criminal investigation based on the evidence we provided months ago.'
On 17 March this year, Amnesty International sent a detailed legal brief to the UK's Crown Prosecution Service (CPS) and the Metropolitan Police, calling for a criminal investigation into Trafigura Limited for its role in the 2006 catastrophe. Various directors and employees of Trafigura in the UK were responsible for the operations that led to the hazardous waste being dumped at some 18 locations around Abidjan, including at a city dump near a poor residential neighbourhood.
The legal brief includes substantial evidence that the actions of Trafigura and its staff in the UK may have amounted to an illegal corporate conspiracy to dump the waste abroad in breach of the UK Criminal Law Act 1977.
'We provided evidence that a British company may have engaged in a serious crime in the UK, resulting in devastating consequences for tens of thousands of people in Côte d'Ivoire. And yet neither the company nor any of the individuals involved has been held accountable in the UK,' said Audrey Gaughran.
To date, Amnesty International has received no response from the Metropolitan Police. In April, the CPS forwarded the organization's brief to the Environment Agency, which responded months later with a refusal to even consider investigating the case. It was only when Amnesty International was poised to challenge its decision in the UK High Court that the agency agreed to review the evidence. It is due to decide by 19 December whether it will launch a full investigation into Trafigura Limited.
'We are pleased that the Environment Agency has agreed to look at the evidence we provided. However, it took the threat of legal proceedings for UK authorities to take this case seriously. Despite providing evidence of a major crime, we've been passed from one authority to another, with each denying they have any ability to take action,' said Audrey Gaughran.
'Had this toxic dumping taken place in the UK, it would have been a national and international scandal, with swift action to bring those responsible to justice. Just because this preventable disaster was hatched here and perpetrated in Africa does not absolve the UK authorities of their duty to investigate.'
Background
On 19 August 2006, toxic waste was dumped at 18 locations in and around the city of Abidjan, Côte d'Ivoire.
The multinational commodities trader Trafigura generated the waste aboard the cargo vessel Probo Koala when it used caustic soda to "wash" an extremely sulphurous petroleum product called coker naphtha. This process creates a hazardous and foul-smelling waste product known as "spent caustic".
The waste on board the Probo Koala included this spent caustic as well as the remains of the coker naphtha. Having failed to dispose of the waste safely in Europe, Trafigura illegally transported it to Côte d'Ivoire and hired a local company to dispose of it.
Trafigura claims that it believed the company would dispose of the waste safely and lawfully, but the evidence provided by Amnesty International to UK authorities suggests that Trafigura knew it would be dumped. Despite knowing that the waste required specialist treatment before it could be disposed of safely, Trafigura paid the company just under US$17,000 to "discharge" the waste at a huge, open-air dumpsite that was completely unsuitable for these purposes.
The terms of their agreement were set out in a one-page, handwritten note that made no reference to any precautionary measures to be taken in disposing of the waste.
After the waste was dumped, Trafigura asked the company to create a false, revised invoice quoting a much higher disposal price of more than US$100,000.
In the aftermath of the dumping, on the morning of 20 August 2006, tens of thousands of people across Abidjan woke up suffering from nausea, headaches, breathing difficulties, stinging eyes and burning skin. More than 100,000 people sought urgent medical assistance and extensive clean-up and decontamination was required. Ivorian authorities also recorded at least 15 deaths, but the actual number – as well as the extent of ongoing pollution and long-term health impacts – remain unknown. Abidjan residents are still demanding justice.
The United Nations Environment Programme is due to audit the dump sites early next year for lingering effects. In September 2012, Amnesty International and Greenpeace published The Toxic Truth, a report that documented Trafigura's role in the generation and dumping of the toxic waste.
One of the report's recommendations was for the UK government to consider initiating a criminal prosecution against Trafigura Limited – the multinational corporation's UK-based subsidiary – and others.
Amnesty International UK also urged the Director of Public Prosecutions to consider pursuing a criminal investigation against the company. As far as Amnesty International is aware, UK authorities took no action to investigate. Various civil cases are ongoing against Trafigura in Côte d'Ivoire.
Several individuals and entities have also been prosecuted in the Netherlands – including the Dutch parent company Trafigura Beheer BV – but only for the illegal import and export of the waste through Amsterdam. A civil case in the UK, brought by some 30,000 of the victims of the dumping, led to £30 million in compensation being paid in a 2009 out-of-court settlement. Trafigura also paid some compensation to the Ivorian government. But fraud and political instability in Côte d'Ivoire resulted in a significant portion of those funds never making it to the victims of the toxic dumping.
To date, Trafigura and its officials have not been held criminally accountable in any jurisdiction for their role in the actual dumping of the toxic waste. The company has repeatedly claimed that it bears no responsibility for the dumping and its aftermath.
Amnesty International had instructed the UK law firm Bindmans LLP and barristers' chambers One Crown Office Row to act on its behalf in any High Court action.