UK: Richard Ratcliffe begins hunger strike outside Foreign Office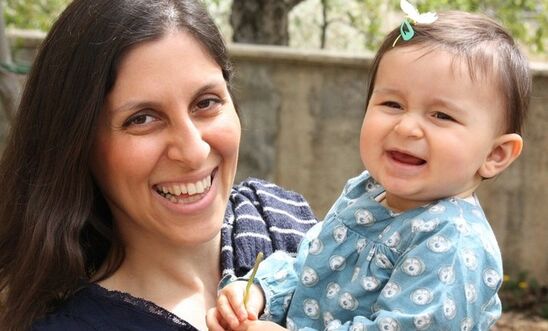 Husband of Nazanin Zaghari-Ratcliffe is demanding urgent action from Government over his wife's continued detention in Iran
His daughter Gabriella, MPs and other supporters expected to attend protest in coming days
Protest comes a week after Zaghari-Ratcliffe's most recent appeal was rejected
'The time for promises is over - now we need action' - Sacha Deshmukh
Responding to today's announcement of a hunger strike outside the Foreign, Commonwealth & Development Office by Richard Ratcliffe, Amnesty International said "the time for promises is over" and the Government needed to urgently set out a strategy for how it will secure the release of Nazanin Zahgari-Ratcliffe and other British nationals detained in Iran.
This afternoon, Richard Ratcliffe began his high-profile protest outside the main entrance to the FCDO building in King Charles Street, central London, in a bid to press the Government into taking firmer action on behalf of his wife who has been arbitrarily detained in Iran for more than five-and-a-half years.
Ratcliffe is calling on Boris Johnson and other ministers to publicly describe his wife as a "hostage" of the Iranian state and build this into ongoing negotiations on Iran's nuclear programme so that hostage-taking cannot continue; to make a commitment to settle an outstanding tank debt with Iran - something he promised to do in 2017 - and to take action against Iranian officials deemed responsible for his wife's unjust detention.
Ratcliffe's action is also designed to shine a light on the plight of other UK nations arbitrarily held in Iran, including Anoosheh Ashoori, Mehran Raoof and Morad Tahbaz.
Ratcliffe is pitching a small tent outside the Foreign Office building, announcing that he will begin a hunger strike on the site in an effort to press ministers into taking firmer action. Ratcliffe will sleep in the tent as he keeps constant vigil at the location in coming days.
Ratcliffe's seven-year-old daughter Gabriella is expected to attend the protest to support her father, and from the site will take part in calls with her mother who is currently held under strict conditions at her parents' home in Tehran after receiving a second jail sentence earlier this year. Last weekend, it was announced that Zaghari-Racliffe had lost an appeal against this second sentence and now faces the prospect of an imminent return to jail.
Various supporters - including MPs and other high-profile figures - are expected to make solidarity visits to the hunger strike site in the days ahead, including Sacha Deshmukh, Amnesty UK's CEO.
Sacha Deshmukh said:
"It's so incredibly upsetting that it's come to this.

"Like Richard, we've grown tired of hearing ministers saying they're 'doing all they can' for Nazanin and other arbitrarily-detained Britons in Iran - it doesn't look like that to us, and it certainly hasn't produced results.

"The time for promises is over - now we need action. We need action for Nazanin, we need action for Anoosheh, and we need action for Mehran and Morad.

"The Government should set out a clearly-articulated strategy for how it intends to secure the release of Nazanin and other British nationals detained in Iran.

"We call on Boris Johnson, Liz Truss and other ministers to take the time to come out of their offices to visit Richard at his tent. Ministers need to hear first-hand how desperate this situation is."
Government promises
Richard Ratcliffe's hunger strike comes after Liz Truss became the latest foreign secretary to oversee efforts to secure the release of arbitrarily-detained British nationals in Iran. Last month, Truss met her Iranian counterpart - Iranian Foreign Minister Hossein Amir-Abdollahian - during the UN General Assembly in New York. After the meeting, the Foreign Secretary said she had called for "the release and return home" of British detainees in Iran. The following day, the 2,000th of Nazanin Zahgari-Ratcliffe's detention, Truss said, "We are working tirelessly to secure her return home to her family".