'The UK must not abandon Afghan women to the Taliban' - Olivia Colman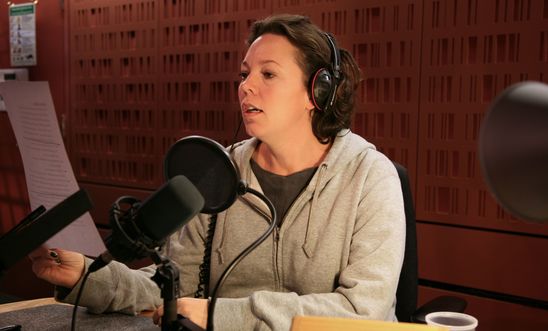 Olivia Colman in the studio
Actress speaks the words of Afghan women in BBC documentary on Radio Four tonight, 8pm
The UK must not abandon Afghan women, actress Olivia Colman warned today ahead of a documentary which explores the dangers women face while undertaking ordinary jobs there.
A BBC documentary on Radio Four tonight will explore the extraordinary risks women in Afghanistan face. Award-winning BBC correspondent Lyse Doucet has travelled to the country to talk to women and girls about the future of their country, at a time when security is deteriorating following the departure of foreign troops from the country.
The programme, produced with Amnesty International, features the stories of three women: a gynaecologist, the head teacher of a girls' school and a women's rights political advocate. Originally conceived as a performance of a play based on their testimony, Even If We Lose our Lives, commissioned by Amnesty, the programme now features extracts from the play but not interviews with the real women on whom it's based as two of them have recently been forced into hiding due to renewed security threats.
Actress Olivia Colman voices the women's stories. She said:
"Being a teacher, a doctor, a politician - these are important jobs but they shouldn't be dangerous ones.

"The brave women whose words I've voiced risk so much to educate, to care and to shape the future of their country. Women like these are the hope for Afghanistan's future and the UK must not abandon them to the Taliban now.

"It's an honour to read these brave women's words."
Last week, to coincide with the London Conference on Afghanistan, a coalition of charities and aid organisations, the British and Irish Agencies Afghanistan (BAAG), released survey results showing that aid workers and rights campaigners in Afghanistan feel dramatically less safe than a year ago.
Sixty percent of the Afghans who responded reported that they felt less safe in their work during the past year, with half of survey respondents stating that either they, or their colleagues, have suffered intimidation or death threats during that time.
Amnesty has been running an "Occupational Hazards" campaign over the last year, drawing attention to the dangers women in work face in Afghanistan. Further details are available at www.amnesty.org.uk/afghanistan
"Speaking Out, Losing Lives" is on BBC Radio 4 on Monday 8 December at 8pm.