UK must ensure independent investigation into torture of 'hooded men'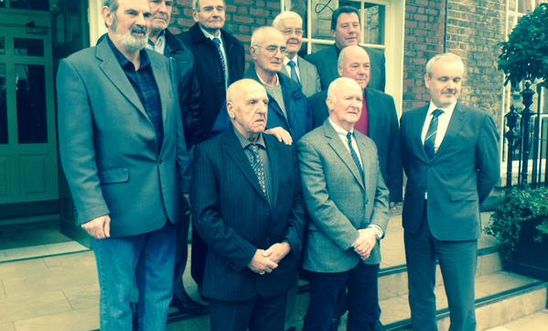 Amnesty International was joined today by ten of the surviving 'hooded men' in demanding an investigation by UK authorities into the circumstances of their torture in internment in the 1970s. The call was made at the Stormont Hotel in Belfast the day after Ireland lodged official papers over the case at the European Court.
Following confirmation on Tuesday that Ireland will seek to have the European Court of Human Rights re-visit allegations that the UK government sanctioned the use of torture and ill-treatment in Northern Ireland in the 1970s, Amnesty renewed its call on UK authorities to ensure that the allegations receive an independent and human rights compliant investigation.
The men had gathered, over 43 years on from their initial arrest and torture in UK custody, for a private meeting with Thomas Hammarberg, who led Amnesty's research delegation to Northern Ireland in 1971 to investigate abuses in internment.
Amnesty International Northern Ireland Programme Director Patrick Corrigan said:
"The allegations against the UK are extremely grave: that they tortured their own citizens, knowing full well the long-term effects of the abuse, that this was authorised at the highest levels of government, and that they then deliberately misled the European Court of Human Rights.

"The Irish government has done the right thing by referring this case back to the European Court. The spotlight now falls on the UK and its obligation to deliver an independent and effective investigation into the allegations.

"It is utterly unacceptable that, in 43 years, the UK authorities have never conducted a proper investigation into the abuse and that no-one, not the people who carried out the abuse, nor the people who authorised it, has ever been held accountable before the law.

"The UK government continues to fail to fulfil its obligation under Article 3 of the ECHR, to establish an independent, effective investigation into the alleged actions of its agents and its decision-makers in these cases and to bring to justice those responsible for torture, at all levels. That responsibility rests squarely with the UK government.

"This case also underscores the need for a comprehensive means of dealing with the past in Northern Ireland. Amnesty International continues to urge the UK government to set up a comprehensive mechanism to address human rights violations and abuses arising from the three decades of political violence in and around Northern Ireland, and to ensure that any such process includes a thematic focus on torture and ill-treatment by state and non-state actors."
Thomas Hammarberg said:
"Time does not heal all wounds, if justice is not done.

"I led an Amnesty delegation to Belfast over 40 years ago to investigate allegations we had received of brutal interrogation methods combined with measures of 'sensory deprivation'. It was obvious to us that these were very grave human rights violations, indeed amounting to torture.

"I was deeply disappointed when the European Court of Human Rights concluded that the ill-treatment of detainees in Northern Ireland under emergency powers in the early 1970s did not amount to torture. Similar methods have since then been used against suspects not least during the US-led 'war on terror'.

"Now that an application has been made by Ireland to revisit the judgment, it should be in the interest of the UK government, as a signatory of the UN Convention against Torture and the European Convention on Human Rights, to ensure that the facts be clarified in this critical case and remedial action be taken."