UK is 'lending cover' to Bahrain as it pursues human rights crackdown - new report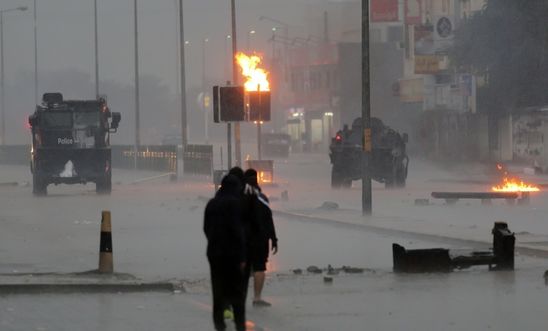 Protests in bahrain have been violently suppressed © Stringer/Anadolu Agency/Getty Images
Report details 'disastrous decline' in human rights in last year
Amnesty writes to minister Alistair Burt after Bahrainis in Gulf targeted following peaceful protests outside Downing Street and elsewhere in the UK
Demonstration at Bahraini Embassy in London on 11 September
The UK has been "lending cover" to the Gulf state of Bahrain as it pursues a year-long crackdown on human rights, said Amnesty International today, as it published a new report on what it said was a "disastrous decline" in the human rights situation in the country.
The organisation is also concerned that the UK has done little or nothing to investigate reprisal attacks against people in Bahrain following protests mounted by Bahrainis in the UK.
In its new 43-page report, 'No one can protect you': Bahrain's year of crushing dissent, Amnesty shows how Bahrain has presided over a "disastrous decline" in human rights in the last year, with a violent crackdown on protests - leading to the deaths of six people, including one child - mass arrests, the torture of detainees and the systematic elimination of free expression.
 
In the year to June 2017, at least 169 critics of the Bahraini government or their relatives were arrested, tortured, threatened or banned from travel by the authorities. In the same period, Amnesty received reports of nine government critics being tortured in detention, eight of them this May.
However, the UK, a key strategic ally of Bahrain's, has downplayed the severity of the situation in the country, with the UK's recent human rights country assessment on Bahrain referring only to a "mixed picture". The UK has also praised Bahrain's "progress on its reform agenda", while occasional comments from UK officials on negative human rights developments in Bahrain have generally been muted.
In a particularly disturbing development, the Bahraini authorities targeted the family of a prominent critic - Sayed Ahmed Alwadaei - who lives in exile in Britain. Hours after Mr Alwadaei took part in a peaceful protest outside Downing Street during the UK visit of the Bahraini king Hamad bin Isa al Khalifa last October, his wife and infant child in Bahrain were arrested, with his wife alleging she was mistreated and then threatened with criminal charges. Interrogators made specific reference to Alwadaei's protest in London, reportedly calling the government critic "an animal". In March, other members of Alwadaei's family were arrested and are now facing serious criminal charges, apparently as a reprisal against Alwadaei's continued opposition activities in Britain.
Meanwhile, other UK-based Bahraini activists have similarly seen their families back in Bahrain harassed, threatened and detained, including after they'd mounted protests about King Hamad's attendance at the Royal Windsor Horse Show, which is sponsored by Bahrain.
Amnesty has written to Foreign Office Minister Alistair Burt about the reprisals against Mr Alwadaei's family and the families of other UK-based activists, seeking clarification over the UK's response. The organisation is also calling for the Bahraini authorities to allow access to the UN Special Rapporteur on torture, as well as to international human rights organisations, including Amnesty, to monitor the deteriorating human rights situation.
Kate Allen, Amnesty International UK's Director, said:
"There's been a disastrous decline in human rights in Bahrain over the past year, but you'd never know it from the UK's rosy pronouncements on Bahrain.

"By accentuating the supposed positives, the UK is lending cover to Bahrain as it pursues a frightening and ever-intensifying crackdown on human rights.

"If the Bahrain-based families of peaceful protesters in London can suddenly find themselves arrested and threatened, it really is time for the UK to wake up to what is happening in the Gulf.

"With this appalling crackdown still ongoing, UK ministers need to do more than rely on 'quiet diplomacy' with regard to Bahrain and start publicly criticising the worsening situation.

"Beleaguered Bahraini activists feel betrayed by the UK's stance on Bahrain."
Free speech dismantled
Amnesty's report shows how the Bahraini authorities have embarked on a systematic dismantling of free speech in the country. The main targets have been human rights activists, lawyers, journalists, political activists, Shia clerics and peaceful protesters. Provisions in the country's penal code criminalising freedom of expression have been used to prosecute scores of people for expressing their opinions. Simultaneously, the Bahraini government has dissolved al-Wefaq, the main opposition group, and Waad, a secular opposition political party, both on unfounded charges. In June, Bahrain's last independent newspaper - Al Wasat - was closed down the authorities, while political leaders and members of opposition groups have been imprisoned or otherwise targeted.
Nabeel Rajab
Prominent human rights activist Nabeel Rajab, who is president of the Bahrain Center for Human Rights, is one of the most targeted human rights defenders in Bahrain. He is currently a prisoner of conscience after being sentenced to two years in jail for giving media interviews, and he faces a further 15 years in jail for a series of tweets. Just before his re-arrest in June 2016 he told Amnesty: "I was jailed five times in the past year ... Most of the time I'm banned from travelling, targeted, jailed, tortured, and my house targeted, attacked by rubber bullets and teargas… My children [have been] targeted by the government, [as have] my wife, my family, my mother, whom I lost while I was in jail and I was not allowed to see her before she died."
Duraz protests
The most notable clampdown on freedom of assembly has occurred in the village of Duraz, home of Shia spiritual leader Sheikh Isa Qassem. After the government arbitrarily revoked his nationality in June 2016, large protests erupted across the country and an 11-month daily sit-in was held outside his home. In response, the Bahraini authorities have used legislation to ban peaceful gatherings. More than 70 protesters, Shia clerics and activists were charged with participating in an "illegal gathering" between June and November 2016.
Since the beginning of this year, Bahrain's security forces, including the National Security Agency, have increasingly used violence to respond to the country's largely peaceful protests. Amnesty has documented security officers beating protesters, firing tear gas, shotguns and semi-automatic rifles directly at protesters, and driving armoured vehicles and personnel carriers into groups of protesters. Eighteen-year-old Mustapha Hamdan died after he was shot in the back of the head as he ran away from masked officers in January. Five more people, including a 17-year-old child, were killed in clashes in Duraz in May, and hundreds more were injured and 286 arrested. Thirty-one security officers were also injured.
USA's policy shift
During the Obama administration, the USA had publicly criticised Bahrain, announcing in September 2016 that sales to Bahrain of fighter jets would depend on "progress on human rights". However, since the election of President Donald Trump there's been a noticeable shift. In March, President Trump lifted the conditions on the sale of jets and two months later told the Bahraini king "there won't be strain with this administration". Bahrain appears to have interpreted this statement as a green light to pursue its repression, violently crushing the Duraz protests just two days later.
Demonstration at Bahrain Embassy in London 
Amnesty and other activists will stage a protest outside the Bahraini Embassy in London (30 Belgrave Square, London SW1X 8QB) on Monday 11 September (10am) to coincide with the next scheduled hearing in the ongoing legal case against Nabeel Rajab. Protesters will wear masks with a hand painted over the Bahraini flag to symbolise the suppression of free speech in the country.