UK: Government response to Windrush generation debacle 'woefully inadequate'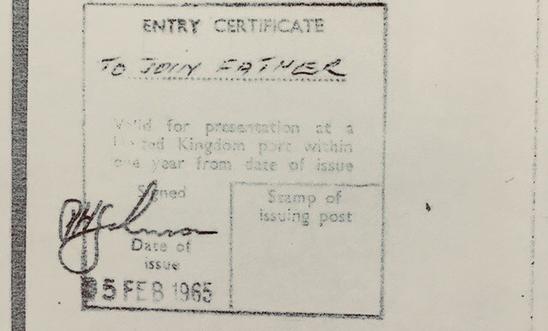 Stamp of entry for a child joining their father in the UK in 1965 (with no limit on entry or stay) © Private
The UK Government's response to the ongoing Windrush generation debate has been "woefully inadequate" Amnesty International UK said today.
Steve Valdez-Symonds, Programme Director for Refugee and Migrant Rights at Amnesty, said:
"The Home Office has finally responded to mounting pressure over its disgraceful indifference to Commonwealth citizens, whose lives have been turned upside down several decades after they first settled in the UK.
"Theresa May's apology to Caribbean leaders over the 'anxiety' caused - together with the Government response on Monday, which included updating some short guidance about the circumstances of these people - is woefully inadequate.
"It does not properly recognise the status and rights of Commonwealth citizens, nor acknowledge how their lives have been blighted.
"Paulette Wilson, Michael Braithwaite and Albert Thompson are just a few of those who have been detained, threatened with deportation, lost their jobs, their homes and been refused critical healthcare or social assistance.
"And it is not only Commonwealth citizens who have suffered because immigration policy has been pursued oblivious to the real harm caused to people, families and communities.
"This is more than another Home Office blunder. It highlights the longstanding systemic faults embedded in the UK's immigration system, which is in desperate need of reform."