UK: former Iran prisoner Anoosheh Ashoori to run London Marathon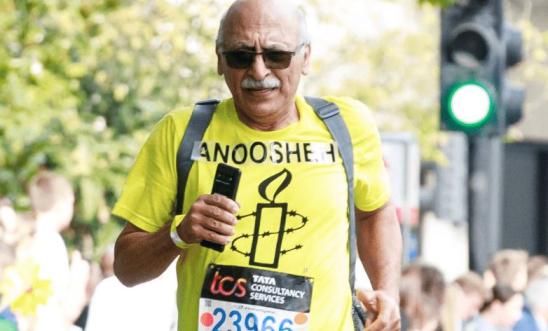 Sixty-eight-year-old Londoner will receive 'Spirit of the London Marathon' award tomorrow
Ashoori, competing for second time in seven months after being freed from prison, will run in solidarity with jailed Britons Morad Tahbaz and Mehran Raoof 
'The UK government still needs to show it's learnt from the mistakes it made with Anoosheh and Nazanin Zaghari-Ratcliffe's cases' - Sacha Deshmukh 
Team Amnesty is supported by The Co-operative Bank 
Anoosheh Ashoori, a UK national who was jailed in Iran for four-and-a-half years on trumped-up charges, will be running the London Marathon at the weekend, and today (21 April) will receive a "Spirit of the London Marathon" award for his efforts after also running last year's marathon just months after his release from prison. 
Ashoori, a 68-year-old from south-east London, will take part in Sunday's race with his daughter Elika and son Aryan, who are all part of Team Amnesty - supported by The Co-operative Bank - set up as a means for activists to raise awareness of Amnesty's work to protect human rights around the world. 
 
Since Ashoori's release from Evin prison in Tehran, he has been campaigning on behalf of others unjustly held in Iran, including Morad Tahbaz, 67, a British wildlife conservationist who has been arbitrarily jailed for more than four years, and fellow UK national Mehran Raoof, 66, a trade unionist also serving a long jail term in Iran after being subjected to a grossly unfair trial.  
Last week, a letter from prison from Raoof emerged in which he said the Iranian authorities were using detained dual nationals as "a valuable commodity" and trying to get "large sums of money" from other nations in relation to them. Earlier this month, the parliamentary Foreign Affairs Committee strongly criticised the UK government's handling of cases such Ashoori's and Zaghari-Ratcliffe's. 
Anoosheh Ashoori, commenting on his participation in the London Marathon this weekend, said:
"We're proud to be running the Marathon to raise awareness of the plight of Morad Tahbaz, Mehran Raoof and all others arbitrarily-jailed prisoners in Iran.
 
"Thanks to Amnesty and others, myself and Nazanin Zaghari-Ratcliffe were freed just over a year ago, but it's incredibly important that we don't forget about the others who've been left behind. 
 
"As the Foreign Affairs Committee pointed out earlier this month, the UK has got to do much better when it comes to responding to the arbitrary jailing of UK nationals overseas."
Sacha Deshmukh, Amnesty International UK's Chief Executive, said:
"We'll be cheering on the Ashoori family this weekend. 

"Anoosheh's extraordinary strength in turning a terrible ordeal in Evin prison into something positive on behalf of other UK nationals arbitrarily jailed in Iran is totally inspiring, and we're behind him every step of the way. 

"The UK government still needs to show it's learnt from the mistakes it made with Anoosheh and Nazanin Zaghari-Ratcliffe's cases, and it can do that by urgently securing the release of Morad, Mehran and another British national, Alaa Abd el-Fattah, who's arbitrarily jailed in Egypt."
The Co-operative Bank
As a long-standing partner of Amnesty UK, The Co-operative Bank have announced their commitment to support Team Amnesty at the London Marathon and future events. 
Commenting on the announcement, Maria Cearns, Chief Operating Officer at The Co-operative Bank, said:
"We're incredibly proud to have been partnered with Amnesty International UK for over 30 years. 

"Today we have announced our commitment to support Team Amnesty and their participation in fundraising events and activities over the coming year.

"Supporting and protecting human rights continues to be a top priority for both our customers and colleagues, and has been a robust commitment within our customer-led Ethical Policy, which is still unique today.  

"As ever, we will continue to shine a light on the fantastic work that Amnesty UK carry out to uphold human rights across the world and will be cheering on the Ashoori family this weekend."