UK arms to Saudi Arabia: Amnesty joins this week's appeal case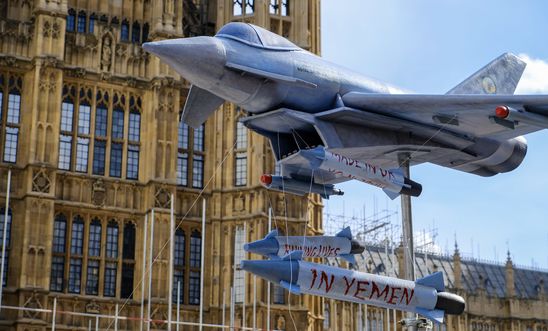 Amnesty took a replica Typhoon to parliament last month to mark four years of civilian deaths from Saudi-led airstrikes in Yemen © Jon Cornejo/Amnesty International UK
Court of Appeal set to hear case from Campaign Against the Arms Trade - with intervention from Amnesty, Human Rights Watch and Rights Watch UK
'By selling billions of pounds worth of arms to Saudi Arabia, ministers are signing a death warrant for the people of Yemen' - Lucy Claridge
Amnesty International, Human Rights Watch and Rights Watch UK will tomorrow join a fresh legal challenge to the UK's continuing arms exports to Saudi Arabia 
The three organisations are intervening in a case brought by Campaign Against the Arms Trade (CAAT) at the Court of Appeal in London seeking to challenge the legality of the UK Government's decision to issue licences for arms exports to Saudi Arabia for use in Yemen, despite the risk of the weapons being used for serious violations of international humanitarian law in the conflict.
The case was originally heard by the High Court in February 2017, with CAAT arguing that arms transfers to Saudi Arabia should be halted because of the clear risk that the weapons supplied would be used to commit serious violations of international humanitarian law in Yemen. However, the court dismissed CAAT's case, ruling in July that year that the UK was entitled to continue authorising arms exports to Saudi Arabia. 
Among other things, the High Court ruling (paragraph 209) discussed the significance of the "finely-balanced" nature of the decision said to be confronting officials and ministers. 
Having been given permission to appeal the ruling in May 2018, CAAT's case is being heard by the Court of Appeal from 9 to 11 April. Amnesty's joint intervention focuses on how a clear risk is determined, the authoritative nature of NGO research reports and the value they have in making such a determination. 
Since a Saudi Arabia-led military Coalition entered the Yemen conflict four years ago, more than 17,640 people have been killed or injured. The United Nations assesses that the majority of casualties are the result of Coalition bombing, with Saudi-led forces carrying out scores of indiscriminate and disproportionate airstrikes - hitting homes, schools, hospitals, markets, mosques, weddings and funerals. To date, Amnesty has documented 41 Coalition airstrikes that appear to have violated international humanitarian law, many of which amount to war crimes. These have resulted in at least 512 civilian deaths and 433 civilian injuries.
Meanwhile, a man-made humanitarian crisis has spiralled in Yemen, with approximately 14 million people in the country currently at risk of starvation.
Lucy Claridge, Amnesty International's Director of Strategic Litigation, said:
"How many more people must die before the UK Government admits it is in the wrong? 

"The people of Yemen are being killed and are at serious risk of famine because of the Saudi Arabia-led Coalition's relentless bombing campaign that has been made possible by British arms and equipment.

"By selling billions of pounds worth of arms to Saudi Arabia, ministers are signing a death warrant for the people of Yemen.

"Across Europe, several countries have stopped selling arms to Saudi Arabia because they know it goes against their legal obligations and have seen the devastation they are causing. 

"It is time for the UK Government to stop putting profit before people's lives."
UK out of step
The UK's failure to suspend arms exports to Saudi Arabia appears largely out of step with actions taken by other states in Europe. Several countries - including the Netherlands, Belgium (Flemish region) and Greece - have responded to public pressure by partly or totally suspending arms sales to Saudi Arabia and the United Arab Emirates (a prominent members of the military Coalition).  
Other countries - such as Austria, Ireland, Sweden and Switzerland - have put in place restrictive measures on Saudi exports. In the aftermath of the murder of journalist Jamal Khashoggi, several European countries also announced they would be suspending arms transfers to Saudi Arabia, including Germany, Norway, Finland and Denmark.
Extensive and credible reports, including Amnesty's own research in Yemen, have demonstrated that British-made weapons have been used repeatedly - and continue to be used - to commit serious violations of international humanitarian law, including possible war crimes. According to publicly-available information, Saudi Arabia has failed to adequately investigate these violations, nor has it held those responsible to account. As such, there is a clear risk that authorising further arms exports would lead to further serious violations in Yemen, and would be counter to the UK's obligations under domestic and international law.
Amnesty and others have documented how all sides to the conflict in Yemen have committed serious breaches of international humanitarian law, including possible war crimes. This includes the Huthi armed group and allied forces which have also indiscriminately fired explosive munitions with wide-area effects - including mortars and artillery shells - into residential areas, killing and injuring civilians.