UK: Amnesty's annual gift catalogue released in time for Christmas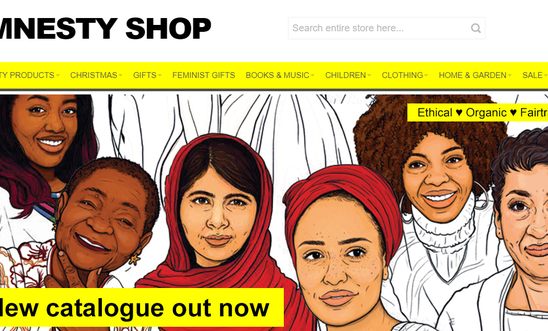 Amnesty International's annual gift catalogue has been released, featuring high-quality products that are fun, fair trade and ethically-sourced.
The 64-page Amnesty Shop catalogue offers a range of unique and eye-catching seasonal gift suggestions such as Amnesty branded t-shirts, as well books, prints, jewellery, calendars, cards and toys.
Some of the more unusual gifts include bamboo toothbrushes, compostable leaf plates, handmade tree seed ornaments from Zimbabwe, and a jotter made from elephant dung in Bali.
Many items featured in the catalogue are from sustainable, eco-friendly manufacturers to ensure purchases will not only benefit the people who make them, but also support the environment and the vital human rights work that Amnesty does.
A large number are also from small suppliers who support their local communities by providing people with marketable skills and a fair wage.
This year, Amnesty is also introducing the Global Farmers' Market, which links customers directly with farmers to support action on the climate crisis and promote environmental human rights.
Kate Allen, Director of Amnesty UK, said:
"The products featured in Amnesty gift guide provide much-needed support to the local communities who make them.

"All of the products are ethically-sourced, led by fair trade and environmental principles. Buying a gift from this year's Amnesty catalogue means you're also helping to support our human rights work.

"At Amnesty, we campaign for essential human rights. We fight for freedom, justice and equality. By shopping with us, you're showing you care about these issues too."
Some of the highlights from the catalogue this year include:
Products can be purchased online, by phone or by post. Free packaging and posting is available on all orders over £75.
For more information, please visit: https://amnestyshop.org.uk/