UK: Amnesty launches bitesize lessons to teach a new generation of human rights defenders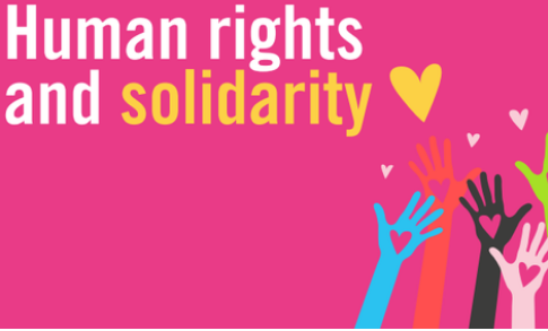 Human rights and solidarity © Amnesty International
Amnesty UK has created series of lessons to help parents and teachers educate children aged 5-19 years old about equality, fairness and justice in the world
'During these challenging times, it's important to keep young people feeling positive about the future' – Kate Allen
Amnesty International UK has developed a series of bitesize activities to explore human rights at home and in the wider world.
The resources will help parents and teachers educate children aged between 5 and19 years old with a set of fun activities.
Kate Allen, Director of Amnesty International UK, said:
"During these challenging times, it's important to keep young people feeling positive about the future.
"These fun activities will help them understand equality and know their rights on how they should be treated, and how they should treat others.
"We hope this will empower children and engage them with the issues of the moment from food poverty, their identity and the plight of refugees."
Supported by the player's of People's Postcode Lottery, the activities help children and teenagers gain a greater understanding about key human rights issues in a fun way.
Each activity listed below helps young people explore the concept of human rights and better understand why they are so important in practice - both to their own lives as well as in the wider world.
The activities highlight local, national and global issues and are simple and easy to digest.
The bitesize lessons
Learning about Human Rights (ages 5-11)
Ten activities that explore identities and help children understand that although we are all different, we are all equal. This section covers human rights issues from food poverty to the plight of refugees.
Human rights and solidarity (ages 7-13)
Six tasks to learn about human rights and how to show solidarity with key workers in their community. 
The fun tasks include being a human rights detective and watching a short film explaining what human rights is - this includes the right to go to school, the right to be treated equally and the right to be safe.
Human Rights and activism (ages 14-19)
Seven tasks to learn about how human rights are under threat and how to be an activist in your community. 
The activities also look at COVID-19 and how the pandemic has affected aspects of life in the UK including the right to health, the right to school and the right to information.
Bitesize poetry: words that burn (all ages)
This is a national project in partnership with Cheltenham festivals and is the first of eight poetry activities, exploring the power of poetry with writing activities to try at home. 
Through poetry, these activities can help connect with other people's stories and amplify the voices of people that deserve to be heard.