UK: Amnesty International Secretary General hails #MeToo movement as powerful example of human rights activism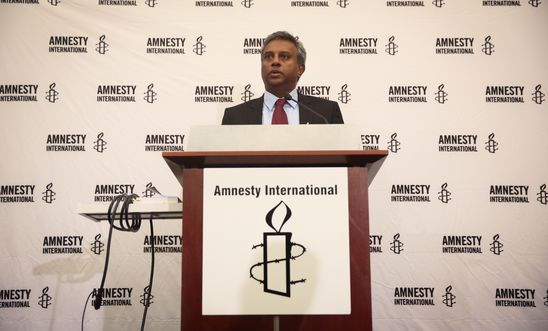 Amnesty International Secretary General Salil Shetty has praised the #MeToo movement as a powerful example of human rights activism.
Mr Shetty said the global protest against sexual harassment showed "how people are willing to stand up bravely and say, 'Enough is enough'."
Speaking as he opened the Amnesty UK Annual General Meeting in Swansea this weekend, Mr Shetty said that in spite of ongoing global crises in a range of human rights issues, there was still plenty to be positive about and praised grassroots activists for their continued work.
Mr Shetty said:
"There is no doubt that we are in a difficult moment right now. This year marks the 70th anniversary of Universal Declaration of Human Rights. It should be a moment to celebrate human rights and its impact, but instead we are left bemoaning the desperate shortage of leaders in the world willing to stand up unequivocally for our rights.

"Here in the UK, Prime Minister Theresa May has long been threatening to weaken and undermine human rights protections.

"From the mass surveillance programme which was developed on her watch, to the suggestions to withdraw from European Court of Human Rights and repeal the Human Rights Act, under Mrs May's government, human rights are often considered an obstacle to national sovereignty and security – rather than a way of protecting and respecting individuals.

"And who is going to stand up against that and say no? We are. Amnesty's role has never been clearer. The failure of leadership is a key reason why our model of grassroots resistance is so important."
Mr Shetty also raised concerns around the rise of popular authoritarianism and the generation of 'strongmen' of global politics – such as US President Donald Trump, Russian President Vladimir Putin and the Philippines' Rodrigo Duterte – that is currently in the ascendancy.
He said:
"Certain governments around the world have successfully sold the idea to their citizens that security and the economy don't just trump rights, they actively require rights to be undermined.

"Leaders have chipped away at the universalism of rights by saying that some people are less deserving – refugees, migrants, Muslims, women. And their messages have fallen like seeds on fertile soil."
But Mr Shetty said significant protests in Iran, Venezuela and across several African countries proved that people power and activism was as important as ever in 2018.
He added:
"Wherever we see governments clamping down on rights, we see people standing up and saying enough is enough – like little fissures opening up to relieve the pressure of steam under the surface."
Mr Shetty also highlighted the plight of the Rohingya, who have fled ethnic cleansing in Rakhine State following a brutal crackdown by the Myanmar military, and said:
"The situation of the Rohingya demonstrates the ultimate consequences of a politics of 'us versus them' in the world. More than 600,000 people fled to Bangladesh after the August 2017 campaign of ethnic cleansing by the military, led by General Min Aung Hlaing."
Mr Shetty will stand down as Amnesty International's Secretary General this year after eight years in the role.