UK: 50 years since homosexuality decriminalised, still a long way to go to equality, warns Amnesty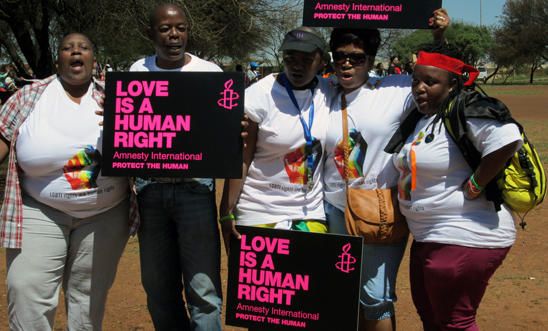 Amnesty activists at Soweto Pride 2013 © Amnesty International
Fifty years on from the partial decriminalisation of homosexuality in England and Wales, there is still a long way to go to achieve full equality for lesbian, gay, bisexual, transgender and intersex (LGBTI) people in this country and across the world, Amnesty International UK has warned.  
The Sexual Offences Act, which came into force on 27 July 1967, decriminalised private sexual activity between men over the age of 21 in England and Wales. Scotland followed in 1980 and Northern Ireland in 1982.
Since then, same-sex marriage has been legalised in more than 20 countries including Argentina, Finland and South Africa. More than 40 countries have decriminalised homosexuality and more than 30 have outlawed homophobic hate crimes.   
However, there are still many barriers preventing LGBTI people enjoying full equality. Unlike the rest of the UK, same-sex marriage is still banned in Northern Ireland and last year, sexual orientation hate crimes were the second highest recorded type of hate crime in England and Wales. Meanwhile, LGBTI people across the world still face jail, abuse, harassment and even death because of their sexuality. According to the International Lesbian, Gay, Bisexual, Trans and Intersex Association (ILGA) consensual same sex relations are still illegal in 72 countries and punishable by death in eight, including Sudan, Iran, Yemen and Saudi Arabia, with a potential for death penalty in a further five countries.
Kate Allen, Director of Amnesty International UK, said:
"Just 50 years ago people were being put in jail simply because of their partner's gender, something that would be unthinkable in the UK today. The progress made since then is a wonderful achievement, and testament to how hard LGBTI people and their supporters have fought for equal rights.

"Yet there is still a very long way to go. The glaring exception to this progress in the UK is Northern Ireland, which must urgently pass same-sex marriage legislation to end this discrimination against LGBTI people there. Meanwhile horrific abuses against LGBTI people in many countries go uninvestigated and unpunished.

"Absurd polices and attitudes are continuing to target people simply because of the gender of the person they love. There is no room for complacency here - we must not let progressive legislation in some places blind us to the suffering that still exists for many LGBTI people in the UK and around the world, and we must keep up the fight."   
In 2011, the United Nations Human Rights Council passed the first UN resolution to focus on LGBTI issues, and in doing so reaffirmed the duty of international human rights law to make sure that sexual and gender equality becomes a reality. 
However, in practice, the authorities in many countries that have signed international treaties committing them to protect human rights continue to rule with legislation that singles out and discriminates against individuals for their sexual orientation. 
LGBTI hate crimes in the UK
Official Police data shows that reported hate crime in England and Wales based on the victim's sexuality has increased by 29% since 2011. Please see Amnesty website for info on hate crime against LGB in England and Wales.
Amnesty is calling for the police to receive the necessary training and resources to deal with these crimes, LGBTI people need to be enabled to have more confidence to come forward and report homophobic abuse, and for victims to feel properly supported and offenders properly prosecuted.
Chechnya
More than a hundred men suspected of being gay have been abducted, tortured and even killed in the southern Russian republic of Chechnya, according to credible sources inside the country. 
The Chechen government won't admit that gay men even exist in Chechnya, let alone that they ordered what the police call 'preventive mopping up' of people they consider to be undesirable. Lesbian, bisexual women and trans people are also likely to face a challenging environment there and in the rest of Russia, where a 'gay propaganda law' has led to increased homophobia.
Amnesty is working to urge the Russian and Chechen authorities to investigate these abductions and bring those responsible to justice.
Northern Ireland
Northern Ireland is currently the only part of the UK or Ireland where same-sex couples can't marry, despite widespread public support for equal marriage (70% according to an Ipsos MORI poll in June 2016). 
Amnesty is campaigning for Northern Ireland to ensure that same-sex couples are afforded an equal chance at civil marriage. The current laws in Northern Ireland preventing this are discriminatory; they belong in the past. 
Global situation
LGBTI people, and those perceived to be so, continue to face abuse or discrimination in countries around the world.
David Kato, a prominent Ugandan gay rights activist, was murdered in his home in 2011 after his photo appeared with others in a 'gay list' published in a Ugandan newspaper under the headlines "100 Pictures Of Uganda's Top Homos" and "Hang them", with his address published inside the paper. Kato had been calling for the authorities to take action to end discrimination against LGBTI people in Uganda, particularly in tabloid newspapers publishing these lists, when he was killed.
Noxolo Nogwaza was a lesbian woman from South Africa. She championed LGBTI rights and helped organise Pride where she lived in a township east of Johannesburg. On 24 April 2011, 24-year-old Noxolo was brutally raped and murdered because of her sexuality, and for her LGBTI activism.
Transgender rights
Transgender people across the world face harassment, abuse, intimidation and murder simply because of their gender identity. They are often forced to undergo gruelling psychiatric assessments or forced to have genital reassignment surgery which results in permanent infertility, to change their legal gender. 
Sakris Kupila, a 21-year-old Finnish medical student, whose case Amnesty is working on, says he struggled for years, miserable and withdrawn, trying to figure out how to grow up in a world that was trying to shove him into a completely wrong role. He realised he wouldn't be able to live his life without transitioning and starting to finally live in the way that felt natural. He was devastated when he found out that he would need to be sterilised to change his gender. Because of his work advocating for the rights of trans people, he has faced harassment, intimidation, threats of violent beatings, and open hostility, which forced him to take a year away from education.