Uganda: "Toxic laws" trigger homophobic and gender discrimination and violence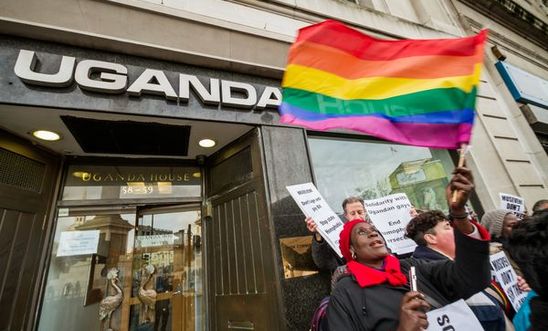 Protesters outside London Embassy, Jan 2014 © Guy Corbishley / Demotix
Discriminatory laws passed over the last 18 months in Uganda have triggered an increase in gender and homophobic discrimination, violent attacks and an increase in state repression, Amnesty International said in a new report published today (Thursday 16 Oct). 
Amnesty's new report Rule by Law – Discriminatory Legislation and Legitimised Abuses in Uganda details how three pieces of legislation have violated fundamental human rights, fuelled discriminatory abuses and left individuals unable to seek justice. 
Amnesty's report documents the cumulative human rights impact of the Anti-Pornography Act, the Public Order Management Act, and the now nullified Anti-Homosexuality Act. These Acts were passed by Uganda's Parliament and signed into law between last August and February this year. 
Legitimising abuses 
While the Anti-Homosexuality Act was in force people who identified as – or were perceived to be – lesbian, gay, bisexual, transgender and intersex (LGBTI) were arbitrarily arrested, including when reporting crimes against them. Some were beaten and groped by police and other detainees in custody. The Anti-Homosexuality Act also led to LGBTI people being evicted from their homes and losing their jobs and subjected to mob attacks.
In the days after the Anti-Pornography Act was signed, there were a number of cases where women were attacked by mobs, harassed by the police, and one lawyer was threatened with arrest because of her clothing. 
After several women deemed to be "dressed indecently" were stripped in the street in mob attacks, the police publicly stated that the Anti-Pornography Act did not give the public "authority to undress women". However, authorities failed to issue a statement in response to homophobic attacks.
Freedom of assembly and association 
The report details how the right to freedom of assembly has come under attack through the Public Order Management Act, which imposes wide-ranging restrictions on public meetings. 
Police have suppressed gatherings involving political opposition groups and crackdowns on activists.  While the police have been using the Public Order Management Act less recently, it has a pervasive chilling effect. 
Amnesty International's Deputy Regional Director for east Africa Sarah Jackson said:
"Repression in Uganda is increasingly state sanctioned through the use of blatantly discriminatory legislation that erodes rights guaranteed in the country's Constitution. The government must act now to revise these toxic laws, which threaten the core of human rights in Uganda.

"The Public Order Management Act has had a devastating effect on the ability of civil society to organise, even stymying attempts to challenge the laws themselves. It essentially reverses the basic premise on which the right to freedom of assembly is based. Instead of facilitating peaceful demonstrations, it imposes wide restrictions on them. 

"The vague wording of these laws has caused them to be interpreted by the public in a dangerous way. Many have taken the law into their own hands through mob justice and abuses against women and LGBTI people.

"The government's failure to properly clarify the laws makes it complicit in the abuses taking place, while the police's failure to investigate abuses has led to impunity being tolerated and propagated by the state. 

"Even though the Anti-Homosexuality Act has been nullified its effects are still felt and the fundamental issues have not been dealt with. People who would normally speak out in defence of others have been stigmatised and silenced." 
Amnesty is calling on the Ugandan government to repeal discriminatory legislation and ensure the government is not complicit in human rights abuses. It must protect all Ugandans, including women, LGBTI people and political activists, from discrimination, harassment and violence. 
Notes to the editor
The Anti-Homosexuality Act was overturned by Uganda's Constitutional Court in August on the grounds that Parliament passed it without quorum. Constitutional challenges to the Anti-Pornography Act and Public Order Management Act are pending. 
This report is based on research conducted by Amnesty in Uganda in March, April and August 2014. Amnesty carried out one-on-one interviews with 42 affected individuals and held group discussions with an additional 57 individuals comprising of staff and representatives of 30 civil society organisations. Interviews took place in Kampala, Entebbe and Mbarara.