UAE: prominent activist jailed for ten years for social media posts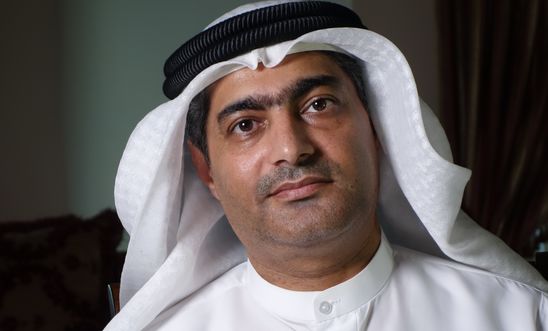 Ahmed Mansoor has been persecuted by the UAE authorities over a long period © Martin Ennals Foundation
Ahmed Mansoor had been held in solitary confinement at a secret location for more than a year ahead of his sentencing this week
'His persecution is another nail in the coffin for human rights activism in the country' - Lynn Maalouf
A prominent human rights defender in the United Arab Emirates has been jailed for ten years for his posts on Facebook and Twitter.
Ahmed Mansoor was reportedly convicted of "publish[ing] false information, rumours and lies about the UAE" which "would damage the UAE's social harmony and unity."
Mansoor was also charged with "cooperating with a terrorist organisation operating outside the country" - but was acquitted on this charge.
Amnesty International has described the sentence as a devastating blow to freedom of expression in the country.
Mansoor had been detained since March last year and held mostly in solitary confinement. His place of detention was never officially confirmed and he was granted only two family visits. 
Mansoor's trial began in mid-March this year and continued at a hearing on 11 April (a third hearing may have taken place on 9 May but there has been no confirmation of this). The activist was sentenced at the State Security Chamber of the Federal Appeal Court in Abu Dhabi this Tuesday, with news not revealed until yesterday. 
Mansoor can still appeal against his sentence to the State Security Chamber of the UAE's Federal Supreme Court, but Amnesty is calling for his immediate and unconditional release, and the quashing of his sentence. Pending his release, Mansoor should also be granted immediate and regular access to a lawyer, his family and any healthcare he may require.
Lynn Maalouf, Amnesty International's Middle East Research Director, said:
"Ahmed Mansoor is one of the few openly critical voices in the UAE, and his persecution is another nail in the coffin for human rights activism in the country.

"The decision to lock up Ahmed Mansoor for the next ten years for simply sharing his opinion on social media is what causes the real damage to the UAE's reputation and so-called 'social harmony', not Ahmed Mansoor's peaceful activism. 

"Ahmed is a prisoner of conscience who has been targeted, tried and sentenced for using Facebook and Twitter to share his thoughts. He should never have been charged in the first place and now he must be released immediately."
Sentences to three years for 'insulting UAE leaders'
This is not Ahmed Mansoor's first conviction for expressing his opinion in the UAE. In 2011, he was sentenced to three years in prison for "insulting UAE leaders by delivering speeches and public lectures" and "provid[ing] false reports and information about the UAE that would harm the policies of the state", in addition to "contacting international rights and political organisations working abroad". He did not serve that sentence, however, as he was pardoned by the UAE president.
Call on UK to support human rights defenders
Kate Allen, Amnesty International UK's Director, said: 
"The level of danger facing activists worldwide has reached crisis point. Every day people are threatened, tortured, imprisoned and killed for what they fight for, believe in or simply for who they are. 
"The protection of human rights defenders must be put at the heart of the Foreign Secretary's vision of 'Global Britain' if the UK is to be a credible voice on human rights post Brexit. Now is the time for the UK develop a coherent strategy on tackling the global surge in repression of human rights defenders."