Turkey: Fears of further abuses of human rights in state of emergency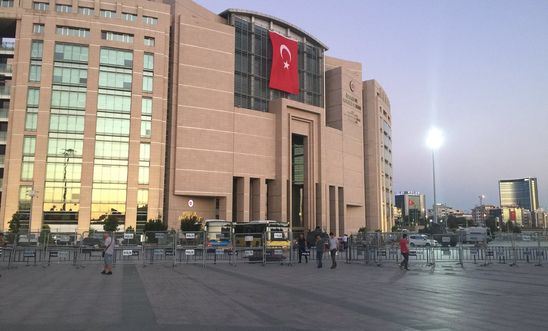 Çağlayan courthouse under tight security as detained people transferred © Andrew Gardner
European Convention on Human Rights suspended for duration of state of emergency
'The government has abused existing laws, the state of emergency gives them increased scope to continue on this dangerous path' – Andrew Gardner
President Erdogan's imposition of a state of emergency must not lead to further abuses of human rights Amnesty International said today.
Following a meeting of the National Security Council and the Turkish cabinet late last night, President Erdogan announced that the government will impose a state of emergency for at least three months.
The deputy Prime Minister, Numan Kurtulmuş, announced today that for the duration of the state of emergency the government will suspend the European Convention on Human Rights.
Speaking from Istanbul Amnesty International's Turkey Researcher Andrew Gardner said:
"It is vital that the Turkish government does not use the state of emergency as a pretext to clampdown on peaceful dissent even harder. Even in times of emergency, Turkey's constitution guarantees that its obligations under international law should not be violated.

"Under international law, there are certain rights, like the right to a fair trial and bans on torture and discrimination, which can never be suspended or limited in any way.

"The government has abused existing laws, the state of emergency gives them increased scope to continue on this dangerous path."
The state of emergency allows the Prime Minister, along with his cabinet, the power to rule by decree and bypass parliament. Amnesty fears that the move could be used as a pretext for the authorities to extend the period of pre-charge detention which currently stands at four days. Under the current circumstances, such an extension could further undermine protections against ill-treatment, as well as the right to a fair trial. Emergency measures could also be used to impose arbitrary restrictions on freedom of expression and freedom of peaceful assembly, and to deny the right of civil servants to appeal their suspensions and dismissals.
Under international law, emergency measures must be necessary and proportionate in scope and duration and only used to counter genuine security threats to the nation. Critically, they must be carefully monitored, temporary, and employed only when absolutely required.
Background
The government has embarked on a crackdown of exceptional proportions, targeting people it accuses of being linked to Fethullah Gülen a Turkish cleric in exile in the US, who the government accuse of masterminding the coup plot. Amnesty is concerned that the authorities are acting arbitrarily, detaining and suspending people without evidence of wrongdoing.
Since the attempted coup, at least 2,745 judges and prosecutors have been suspended according to Habertürk, a mainstream pro-government Turkish television news channel. According to Numan Kurtulmuş, the deputy prime minister, 2,277 judges and prosecutors have been detained, of whom 1270 are in pre-trial detention and 730 are in pre-charge detention.
On Tuesday 19 July, the Ministry of Education reported that 15,200 ministry personnel had been suspended and that they are under investigation for links to Fethullah Gülen. According to the pro-government Sabah daily, on 19 July 1,577 university deans were asked to resign by the Council of Higher Education (YÖK). Of these, 195 deans have already tendered their resignations. All of the deans will be investigated for links to Fethullah Gülen according to Habertürk.
The semi-official Anadolu Turkish news agency has reported that the government has begun the process of closing 524 private schools and 102 other institutions operating under the Ministry of Education for suspected links to Fethullah Gülen.
The Ministry of Education has also suspended the right of academics to conduct research abroad until further notice and has called back academics who are currently working abroad.
The Turkish authorities have arbitrarily blocked access to more than 20 news websites; have revoked the licenses of 25 media houses in the country; 34 individual journalists have had their press cards cancelled; and at least one journalist has had an arrest warrant issued against her for her coverage of the attempted coup.
This morning respected human rights lawyer and journalist Orhan Kemal Cengiz was detained in Istanbul and taken to the city's police headquarters.