Turkey: Amnesty names Osman Kavala and 'Gezi 7' prisoners of conscience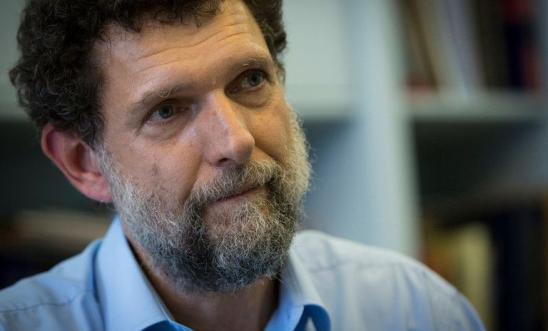 Osman Kavala © Kerem Uzel/NARPHOTOS
Prominent philanthropist and human rights defender sentenced to life, six co-defendants given 18-year jail terms
'Turkey's judicial system has become a repressive tool to silence dissent' - Agnès Callamard
Seven activists who were imprisoned in Turkey on trumped-up charges have been named prisoners of conscience by Amnesty International today.
Amnesty's move comes two months after the people - including prominent philanthropist and human rights defender Osman Kavala - were convicted at the end of a sham retrial when an appeals court overturned their previous acquittals. It also comes a week after the court published its "reasoned judgment" in which it provided no grounds for its majority verdict.
Agnès Callamard, Amnesty International's Secretary General, said:
"Naming these seven people as prisoners of conscience is a recognition of the chronicle of injustice they have suffered, beginning with arbitrary detention and politically-motivated prosecutions, and ending in a show trial and convictions.
"The injustice that these seven have been subjected to is emblematic of that suffered by so many in Turkey's draconian crackdown on human rights."
Sham trial
On 25 April, Osman Kavala was sentenced to life in prison for "attempting to overthrow the government". The prosecuting authorities alleged he played a leadership role in the largely peaceful 2013 Gezi Park mass protests but failed to provide any evidence to substantiate their claims. He has been imprisoned since November 2017.
His six co-defendants - architect Mücella Yapıcı, city planner Tayfun Kahraman, lawyer Can Atalay, documentary film-maker Mine Özerden, film producer Çiğdem Mater, higher education director Hakan Altınay and university founder Yiğit Ekmekçi - were also convicted of assisting Kavala. They were each sentenced to 18 years in prison. Six were immediately jailed and an arrest warrant was issued for the seventh defendant, Yiğit Ekmekçi.
The announcement of prisoner of conscience status was made following visits to the prisoners by a high-level delegation led by Amnesty Turkey's Chair, Kerem Dikmen, who is also a lawyer.
Agnès Callamard added:
"The shocking injustice meted out to the Gezi Park defendants exposes again how Turkey's judicial system has become a repressive tool to silence dissent.
"Each day they spend behind bars is an affront to the concept of justice and human rights, principles that the Turkish state has committed itself to upholding but is repeatedly and relentlessly violating. 
"The Gezi Park defendants are prisoners of conscience and must be immediately and unconditionally released."
Who are the seven prisoners of conscience?
Osman Kavala is a businessman and has dedicated his life to promoting culture and dialogue through the arts. He set up Anadolu Kulturültür and arts centres in several Turkish provinces, as well as projects to promote artistic expression.
Mücella Yapıcı is an architect and was the secretary of the Istanbul branch of the Chamber of Architects at the time of the Gezi Park protests. She was among 26 people prosecuted for "opposition to the law on meetings and demonstrations" The Gezi Park retrial was the third prosecution she has faced in relation to protests. 
Tayfun Kahraman is a town planner and a member of the NGO umbrella group Taksim Solidarity. He works at the Greater Istanbul Municipality as its urban planning coordinator.  
Can Atalay acted as the lawyer for Taksim Solidarity and for the Istanbul Chamber of Architects during the Gezi Park protests. He is also representing the families in prominent cases such as the Soma coal mine explosion which killed more than 300 miners in 2014, and the Çorlu train derailment which killed 24 people in 2018.
Mine Özerden is a member of Taksim Platform, another civil society umbrella group that was established in 2011 in response to the proposed redevelopment of Taksim Square. She is a documentary film-maker who has worked in advertising and in civil society organisations.  
Çiğdem Mater is a film producer and formerly a reporter, translator and producer for various international press organisations, including the Boston Globe, Le Nouvel Observateur, the LA Times, RFI and Sky News. She has worked as a producer on various Turkish and international feature films and documentaries since 2010. Burning Days, which she produced, premiered at this year's Cannes Film Festival. She could not attend as she was in jail but a chair at the event was left empty in tribute to her.
Hakan Altınay is director of the European School of Politics and president of the Global Civics Academy. He has written for the Financial Times, International Herald Tribune and the New York Times. He was the founding director of the Open Society Foundation in Turkey.