Trump travel ban: flashmob demo will tour iconic London locations with 'No Ban, No Wall' message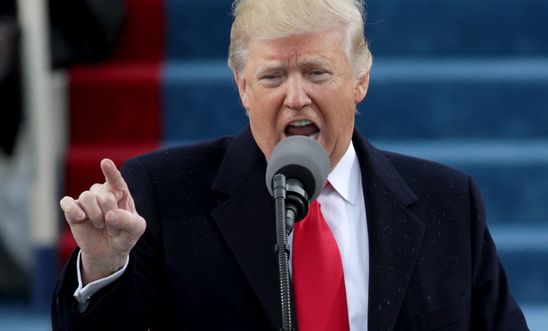 Donald Trump's executive orders have led to a cluster of discriminatory policies © Alex Wong/Getty Images
Amnesty International activists will take a "flashmob"-style demonstration around London on Thursday 16 March in protest at the planned introduction on this day of the revised version of the USA's highly controversial travel ban and freezing of its refugee resettlement programme.
Activists will visit three iconic locations in London - outside Big Ben in Parliament Square, Trafalgar Square, and the US Embassy in Grosvenor Square - and hold aloft large placards saying "No Ban, No Wall" and "I Welcome Refugees".
The protesters, all dressed in black - including branded Amnesty-candle t-shirts - will stand immobile in stock-still, silent protest for 15 minutes at each of the three locations. 
The event will commence at 10.15am in Parliament Square (exact location), moving to Trafalgar Square at 10.45, before concluding outside the US Embassy in Grosvenor Square at 11.45.
Amnesty has been strongly critical of several measures from the new US government - including the multi-country travel ban affecting Muslim majority countries ("discriminatory and unlawful"), the120-day halt to its refugee resettlement programme ("malicious and divisive"), and plans for a wall on the Mexican border ("a dangerous move").
Amnesty International UK Director Kate Allen said:
"Unfortunately, the UK Government has barely raised a squeak in protest over President Trump's travel ban so it's up to human rights groups and the wider public to say 'No Ban, No Wall'.

"As and when President Trump comes to Britain, our message will be the same: drop the divisive rhetoric, drop the discriminatory policies, and start staking human rights seriously."
Amnesty's campaign calling on President Trump to abandon the travel ban and refugee freeze is here.
The London flashmob demos are part of an Amnesty global day of action on the travel ban. Other activities include:
*Ireland, where there will be a photo-stunt with a person dressed as the Statue of Liberty posing on the Ha'penny bridge in central Dublin 
*Spain, where there will be a Facebook Live event in front of the US Embassy
*Argentina, where activists will gather dressed as the Statue of Liberty in an act of protest
*Stunts and protests are also planned in Belgium, Chile, Zimbabwe and Mexico, among other countries. In the USA, Amnesty supporters will take action online asking US Congress members to act against the Executive Order authorising the travel ban, as well as taking part in various protests planned around the country.