Trafigura unrepentant ten years after 'one of worst environmental disasters in 21st century'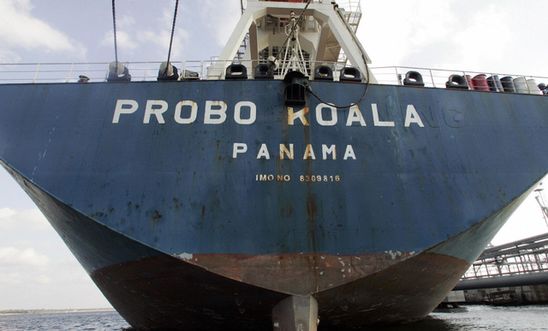 Probo Koala ship at the port of Tallinn Sept 2006 © RAIGO PAJULA/AFP/Getty Images
Amnesty calls for new UK law to criminally prosecute UK-based companies if they commit serious human rights abuses overseas
"If toxic waste had been dumped in central London, there would be hell to pay and rightly so" – Lucy Graham
Multinational commodities company Trafigura must come clean over the contents of toxic waste dumped in Abidjan, the capital of the Ivory Coast, ten years ago, said Amnesty International today.
Registered in The Netherlands and controlled from the UK at the time of this episode, the commodities company Trafigura has never disclosed exactly what was in the 540,000 plus litres of toxic waste dumped at 18 sites in Abidjan on 19 August 2006.
Following the dumping of those materials, more than 100,000 people sought medical attention for a range of symptoms including dizziness, vomiting and breathing problems, and authorities reported 15 deaths.
Amnesty International's Business and Human Rights Researcher Lucy Graham said:
"Trafigura has never really been properly brought to book for its role in the dumping.
"If toxic waste was dumped in central London, there would be hell to pay and rightly so.
"But in this case Trafigura executives in an office in London signed-off on toxic waste being disposed of without due care in the biggest capital city in West Africa.
"A decade on from one of the worst environmental disasters of the 21st century, Trafigura and governments alike have abandoned the victims to suffer a toxic legacy. Meanwhile, Trafigura has rebranded itself, claiming to be a transparent, responsible company. This corporate giant, which posted profits of US$1.1 billion in 2015, must not be allowed to completely wash its hands of this disaster."
Trafigura opacity prolongs fear in Abidjan
In a 2012 joint report, Amnesty and Greenpeace documented how Trafigura's refusal to disclose the contents of the toxic waste hampered the clean-up and medical response to the disaster.
When Amnesty wrote to Trafigura in June asking it to seize the tenth anniversary as an opportunity to finally disclose the contents of the waste it replied, "We have nothing further to add to what has been said [to Amnesty International in August 2012] and we see no purpose in further discussion".
Trafigura went on to claim that it had already disclosed the contents of the waste in UK court proceedings. What it actually disclosed, however, was based on tests conducted by a government agency in Amsterdam six weeks before the waste was dumped.
Trafigura also continued to play down the toxic waste's impact, saying that "the slops [waste] could at worst have caused a range of short term low-level flu like symptoms and anxiety".
Amnesty and Greenpeace's 2012 report showed that victims had suffered a range of serious health issues, including respiratory problems, severe abdominal pain and digestive problems consistent with the likely effects of exposure to the chemicals thought to be in the waste.
In July 2016 Amnesty interviewed Abidjan residents affected by the 2006 dumping. They said they are still ill from inhaling the chemical waste that remained on dumpsites near residential areas for years after being dumped there. People living next to and growing vegetables on dumpsites told Amnesty they still smell the waste when it rains heavily.  
All but three of the 38 Abidjan residents Amnesty spoke to said they still suffer health problems. The Ivory Coast government has not monitored the victims to assess if they have suffered any long-term health effects.
Lucy Graham added:
"Without proper health monitoring and without Trafigura disclosing the full chemical contents of the waste, people continue to live in fear and without basic answers about how the waste has affected their health. Trafigura's lack of disclosure has left a legacy of uncertainty for many victims, who worry about long-term health effects,
"Trafigura says the toxic waste caused nothing more harmful than the flu but bases its case on evidence it made confidential. If the company has nothing to hide, why not disclose all the information the victims need to get on with their lives?"
Trafigura seeks rebrand
Meanwhile, Trafigura is looking to rebrand itself as a leader in corporate responsibility in the commodities trading sector. Trafigura was the first commodities firm to join the Extractive Industries Transparency Initiative in 2014, a move the organisation's CEO said reflected its "commitment to transparency and accountability". It recently held a multi-stakeholder forum on advancing responsible trade in Geneva.
Lucy Graham said:
"It is disingenuous for Trafigura to tout a superficial transparency record at a time when the victims of 2006 are left in fear for their health because of its opacity. If Trafigura was truly transparent and accountable it would disclose all the information about the toxic waste dumped in Abidjan and its possible impacts on the people who live there. Why would Trafigura continue to hamper medical treatment for people in Abidjan if it didn't have something to hide?"
In 2009 lawyers of Trafigura obtained a secret injunction known as a 'super injunction' to prevent details from being made public of a 2006 report commissioned by Trafigura into the toxic waste dumping in the Ivory Coast. Trafigura' s lawyers also tried to prevent the reporting of a Parliamentary question on these findings, a move that met with widespread condemnation.
Governments give corporate crime "carte blanche"
Ten years on, no government has forced Trafigura to disclose the exact contents of the toxic waste, or fully investigated Trafigura's role in the dumping, leaving the victims to pursue on-going civil cases in Ivory Coast and the Netherlands.  
In August 2015 Amnesty exposed the UK government's shocking failure to investigate Trafigura's role in the dumping of the toxic waste. Amnesty presented evidence that Trafigura employees in the UK may have intentionally orchestrated the dumping in Abidjan. UK authorities told Amnesty that they lacked the legal firepower, resources and expertise to take on a corporate giant.
Amnesty says the UK should pass a new law, similar to the UK Bribery Act, making it a criminal offence for UK-based companies to commit serious human rights abuses overseas, unless they can show they have systems in place to prevent them.
Lucy Graham added:
"Failing to compel Trafigura to disclose the contents of the waste and investigate whether the commodities trader committed a grave environmental crime and human rights abuse sets a dangerous precedent. It sends the message that the bigger and more powerful a company is, the more immune it is to accountability.
"As long as rogue companies are allowed to exploit weak laws in industrialised countries or weak governance in fragile and conflict-affected countries, there is every reason to fear that the scandal that happened in Abidjan in 2006 could happen again today."
Background
For several months in 2006, the cargo tanker Probo Koala, sailed around Europe and then to West Africa to find a country where it could dispose of hazardous waste. Trafigura produced the waste on board the ship by using caustic soda to refine an extremely sulphurous petroleum product called coker naphtha.
A 2012 Amnesty and Greenpeace report The Toxic Truth documented the dumping of toxic waste in 2006 and limited government efforts to investigate it and hold Trafigura to account. Although some agencies conducted tests on the waste dumped in Abidjan, there were issues with these tests and Trafigura has never published complete information about the exact chemical it contained.
Trafigura denies responsibility for the toxic waste dumping and maintains that it believed the local company it hired in Abidjan to dispose of the waste would do so safely and lawfully. The local company did not have the capacity to deal with hazardous waste, something Trafigura knew or ought reasonably to have known.
The Ivory Coast government announced that the dumpsites had been decontaminated in November 2015. The results of United Nations tests carried out in July 2016 are expected by the end of the year. The Côte d'Ivoire government has also started carrying out limited health checks in one of the villages worst affected by the dumping.