Torture cases in Mexico double - new report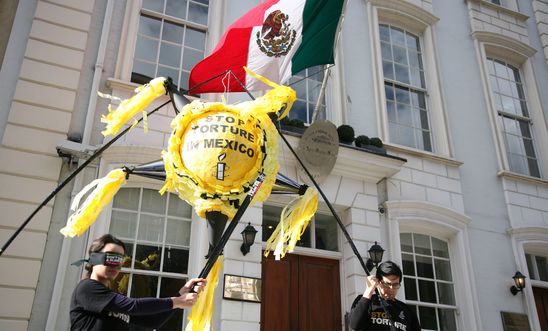 Activists with a piñata for Peña Nieto during the Mexican president's visit to the UK earlier this year © Amnesty International
'A year ago, it would have been hard to imagine how Mexico's torture crisis could have gotten any worse' - Erika Guevara-Rosas
Mexico's torture epidemic has reached catastrophic new levels with reports of asphyxiation, rape, electric shocks and beatings more than doubling in the last year, said Amnesty International in a new report today.
Despite this, the Attorney General's Office told Amnesty that they have "no hard data" on any charges issued in 2014 against those responsible. In fact, the number of possible victims examined by official forensic experts in the country actually declined during 2014. The Attorney General has 1,600 pending requests to carry out forensic examinations in torture cases.
President Enrique Peña Nieto has promised to present a new bill on torture to Congress as a first step to tackle the crisis. However, with less than three months until the deadline for Congress to approve this law, the bill is yet to be presented.
Amnesty International's Americas Director Erika Guevara-Rosas said:
 

"A year ago, it would have been hard to imagine how Mexico's torture crisis could have gotten any worse and then it just did, while the government continues to turn a blind eye to a crisis of their own creation.

 

"A robust law on torture that means more than words on paper and ensures justice, would be a good first step for Mexico to finally move on from the deep human rights crisis it is immersed in."
Piñata for Peña Nieto
During President Peña Nieto's state visit to the UK in March, Amnesty handed in a 13,000-strong petition to the Mexican Embassy in central London, with the petition delivered in a traditional Mexican piñata. The three-metre-wide piñata - a bright yellow five-pointed star with multi-coloured tassels and a message saying "Stop torture in Mexico" - was broken open in the traditional fashion by a blindfolded person. However, on this occasion the stick-wielding person's blindfold read "President Peña Nieto: Don't turn a blind eye to torture". 
Mexico's serious torture problem
Mexico has been identified as a country with a serious torture problem as part of Amnesty's global
Stop Torture campaign
. Last year dozens of Amnesty campaigners wrapped themselves in plastic outside the Mexican Embassy in London to draw attention to the case of Claudia Medina, a mother-of-three who was tortured by Mexican military officials, including by being wrapped in plastic sheeting to minimise bruising to her body during beatings. In February, charges that had been levelled against Medina were dropped on the basis that supposedly incriminating evidence against her had been obtained under torture.
Downloads