There is an emergency in the Mediterranean and all of Europe needs to respond to it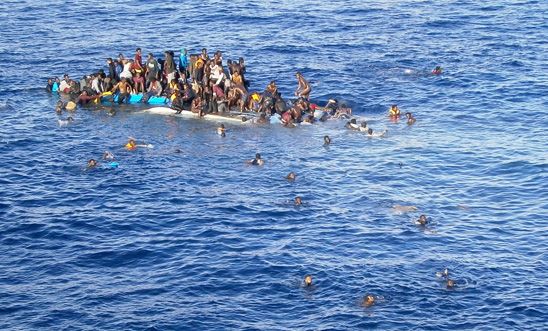 Since the Mare Nostrum search and rescue mission ended the number drowning in the Mediterranean has dramatically increased. © EPA
European governments must prioritise setting up an immediate search and rescue plan to prevent the escalating death toll of migrants attempting to cross the Mediterranean Sea, Amnesty International said ahead of a European Union (EU) foreign and interior ministers meeting in Luxembourg today.
Hundreds of people are feared drowned after their boat capsized off the coast of Libya this weekend. Up to 1,600 people are now believed to have drowned this year alone, more than 1,100 of them in the past week. There have been reports of a further two boats which have made distress calls today with more lives feared lost.
Kate Allen, Amnesty UK Director - who will be flying into Lampedusa on Wednesday - said:
"There is an emergency in the Mediterranean and all of Europe needs to respond to it. History will judge us for turning our backs, while desperate people drowned.

"The equivalent of five passenger planes full of people have drowned last week alone, and this is only the start of the summer. If they had been holiday makers, instead of migrants, imagine the response.

"The floating bodies of these desperate fathers, mothers and children are Europe's shame.

"We need to reinstate the search-and-rescue programme immediately, and it needs proper, pan-European funding. That includes the UK playing its part."
Amnesty spokespeople are available for interview. Kate Allen will be travelling to Italy on Wednesday to visit Lampedusa and Sicily.
Talking points
· European governments' ongoing failure to address the humanitarian crisis in the Mediterranean has contributed to a more than 50-fold increase in migrant and refugee deaths since the beginning of 2015.
· Two recent high-profile tragedies, in which more than 1,000 migrants are feared drowned, have belatedly brought this crisis onto the agenda of European foreign and interior ministers today.
· The Mare Nostrum rescue mission, which saved the lives of thousands of migrants, ended last year. It has still not been adequately replaced.
· A new multi-country search and rescue operation could be put in place within days if there was the political will to do this.
· All indications point to a continued rise in the number of migrants and refugees making this trip as the weather improves, violence and persecution continue in countries like Syria and Eritrea, and instability persists in Libya.