Tanzania: ten men arrested in Zanzibar for 'being gay'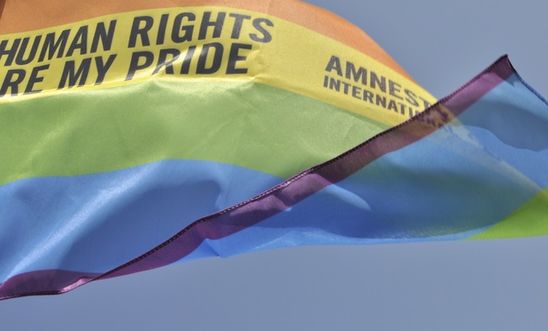 Group detained for supposedly conducting a gay marriage
Arrests come days after a Tanzanian politician announced a taskforce to hunt down LGBTI people
Ten men have been arrested on the Tanzanian island of Zanzibar on suspicion of 'being gay' after police received a 'tip-off' from members of the public about a same-sex marriage taking place, Amnesty International has revealed.
The arrests come days after a prominent Tanzanian politician called on the public to report the names of suspected gay men to the police – comments subsequently denounced by the government. Tanzania's colonial constitution and laws prohibit consensual same-sex relations.
Seif Magango, Amnesty International's East Africa Deputy Director, said:
"This is a shocking blow following the Tanzanian government's assurance that no-one would be targeted and arrested because of their actual or perceived sexual orientation and gender identity.

"This appalling attack on Tanzanian people simply exercising their human rights shows the danger of inflammatory and discriminatory rhetoric at senior levels of government.

"We now fear these men may be subjected to forced anal examination, the government's method of choice for 'proving' same-sex sexual activity among men. This must not be allowed to happen - these men must be released immediately."
The ten men were arrested when police raided a party at Pongwe Beach in Zanzibar, on Saturday night (3 November). Six others at the event fled. The ten are being held at Chakwal police station in Unguja, despite no charges having been brought against them.
Amnesty has established that the men were arrested for allegedly conducting a gay marriage, with police saying they found the men sitting in pairs 'two by two'.
Seif Magongo said:
"It's mind-boggling that the mere act of sitting in a pair can assume criminal proportions. The police clearly have no grounds to file charges against these men in court, despite arresting them three days ago."
Government taskforce
On Monday 29 October, Paul Makonda, the Regional Commissioner for Dar es Salaam, announced plans to form a government taskforce to hunt down people believed to be lesbian, gay, bisexual, transgender or intersex (LGBTI), which was due to begin its 'work' yesterday. However on Sunday, the Tanzanian Government, through its Ministry of Foreign Affairs, distanced itself from Makonda's remarks terming them a 'personal opinion'.