Syrian refugees being denied entry into neighbouring Jordan - new report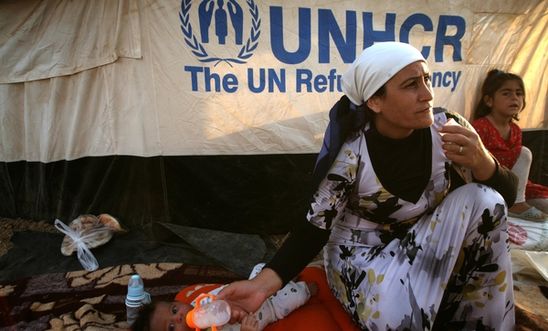 © Safin Hamed/AFP/Getty Images
Desperate families reduced to scavenging for food by roadside after border closure. 
Jordan is denying entry to desperate Syrian refugees who have been forced to sleep rough and scavenge for food by the roadside, said Amnesty International in a new report today.
Despite claims by the Jordanian authorities that its border has remained open to those fleeing the conflict in Syria, Amnesty's research indicates that at least four categories of people are being denied access to Jordan.
These are:
Those lacking identity documents
Unaccompanied men with no demonstrable family ties in Jordan
Palestinian and Iraqi refugees who have been living in Syria
In addition, ad hoc border restrictions imposed by the Jordanian authorities - combined with fighting in border areas - have left thousands of displaced people trapped near the border with Jordan. Families have told Amnesty of how they were turned back by Jordanian border officials. One woman, with six children, said their passports were stamped "return within one month". She and her children were forced to sleep on the road near the border with some 100 other families, surviving by eating whatever fruit they found on nearby trees. After a month's wait they were still denied entry and were forced to return to a nearby Syrian town.
 
Amnesty's 40-page report, Growing restrictions, tough conditions: The plight of those fleeing Syria to Jordan, also highlights the plight of Palestinians who had been living in Syria but were forced by the conflict to flee to Jordan. Hundreds, if not thousands, of Palestinians have been denied access to Jordan since early 2012, when the Jordanian authorities began blocking their entry. In addition, Palestinians who had earlier gained entry to Jordan have been housed in a bleak six-storey building known as "Cyber City", located outside Irbid, in northern Jordan, in conditions amounting to detention.
 
For those who have been granted entry to Jordan - forced deportation is an additional risk. The Jordanian authorities have told Amnesty that they will not return anyone to Syria, yet in August 2012 some 200 refugees were deported back to Syria by the authorities after protests broke out at the sprawling Za'atri refugee camp. Information obtained by Amnesty indicates that scores of other individuals have since been returned. In one case, a Palestinian from Syria, Mahmud Merjan, was reportedly killed in Syria in late 2012, three weeks after being forced by Jordanian security officials to sign a "voluntary" paper that he would go back to Syria despite allegedly being wanted by the Syrian authorities.
'It is unacceptable that scores of people from Syria, including families with small children seeking refuge from the fighting, are being denied admission by neighbouring countries.
 
'People fleeing Syria to Jordan and other countries in the region are being hampered by tightening border restrictions. Many of them have already lost everything. Amnesty International urges neighbouring countries to keep their borders open to all individuals fleeing the conflict in Syria. It is also calling on the international community to step up its efforts to help them do so.
 
'The influx of refugees has placed an enormous strain on countries in the region. Their resources are understandably stretched. However, this should not be used as an excuse for denying people entry or forcibly returning people to the conflict and humanitarian crisis in Syria.'
Philip Luther, Amnesty International Middle East and North Africa Director
Za'atri refugee camp
Residents at Za'atri, the largest refugee camp in Jordan hosting some 120,000 Syrian refugees, told Amnesty that they face considerable difficulties accessing basic services. Access to clean drinking water, high levels of criminality and poor security were among the biggest challenges cited by refugees living in at the camp. Only half of the children eligible for school were registered to attend formal education in the camp, and Amnesty has met children as young as 12 at the camp who were working to support their families and did not attend school.
 
Women and girls at Za'atri also said they live in fear of sexual violence or harassment. Many said they were too scared to go to the toilets alone at night for fear of being harassed. Doctors said women at the camp were increasingly developing urinary tract infections from frequently restraining themselves from using the toilets for long periods. Others reported being approached by Jordanian men looking for 'brides'.
Appeal to European countries
Amnesty's report acknowledges the considerable efforts over hosting refugees already made by Jordan and other countries neighbouring Syria. Jordan has already accepted more than 500,000 people from Syria, while Lebanon has taken around 800,000 (the highest of any country), Turkey over 500,000, Iraq around 200,000, and Egypt more than 125,000.
 
Amnesty is calling on countries with the means to do so - including in Europe, North America, and the Gulf - to assist Syria's neighbours with additional funding as well as themselves offering resettlement and humanitarian admission. To date, 16 countries have begun to participate in a UNHCR-administered scheme, including Germany, Ireland, Spain, Australia and Norway. Last month Amnesty called on David Cameron to ensure that the UK participated in the scheme, saying that it was "shameful that the UK hasn't offered to take a single Syrian refugee from the overflowing camps." The UK, which has made a financial commitment to supporting Syrian refugees in the region, has still made no offer to resettle or allow humanitarian admission for even the most vulnerable categories of Syrian refugees.
Read the full report - 'Growing restrictions, tough conditions: The plight of those fleeing Syria to Jordan'