Syrian refugees: Amnesty welcomes move by Northern Ireland authorities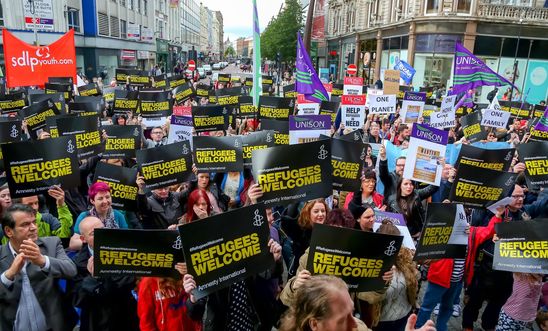 Rally for refugees in Belfast last month © Photo by Press Eye
Amnesty International has welcomed an announcement by the Northern Ireland Executive that 50-100 Syrian refugees are due to arrive in the region by December under the Vulnerable Persons Relocation Scheme, with more to follow in the months ahead.
Amnesty International's Northern Ireland Programme Director Patrick Corrigan said that it was important that the region played its part to help refugees fleeing war-torn Syria.
The arrivals will be part of the 20,000 Syrian refugees which the UK Government said it would accept over the next five years. Northern Ireland political leaders have previously indicated their support for resettling significant up to 2,000 refugees in the region.
Patrick Corrigan said:
"The refugee situation is the greatest humanitarian crisis which Europe has faced since the end of the second world war - it is right that Northern Ireland should be part of the solution.
"The people of Northern Ireland have already demonstrated their willingness to respond to the crisis through donations of money and emergency supplies. That generosity of spirit must now be matched by government in a joined-up response which provides the housing and other needs of refugee families. The agreement to implement a Refugee Integration Strategy is also crucial to ensuring that all refugees, whether new arrivals from Syria or those already here, are given the sort of practical welcome they deserve.
"However, at a Westminster level, the UK commitment to take 20,000 refugees can only be a first step. There is so much more that the UK can – and must – do to provide sanctuary to our fair share of the refugees arriving in Europe, and to provide safe and legal routes to reach safety for others fleeing conflict and persecution."
Last month over a thousand people attended a 'refugees welcome' rally at Belfast City Hall, organised by Amnesty International and the Irish Congress of Trade Unions.