Syria: witness testimony reveals details of chemical weapons attack on Saraqeb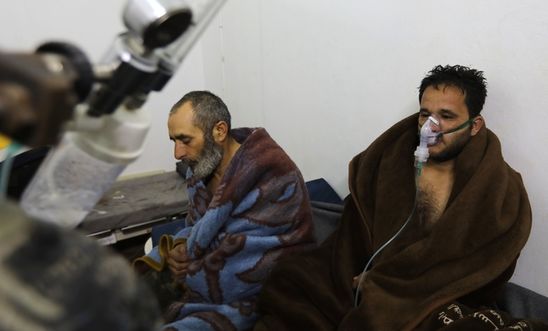 Syrians suffering from breathing difficulties at a field hospital in a village on the outskirts of Saraqeb © OMAR HAJ KADOUR/AFP/Getty Images
'They couldn't breathe, they were coughing non-stop, they had red eyes and some were vomiting severely' - nurse describing victims
Amnesty International has gathered testimony which strongly points to the Syrian government's use of chlorine gas in an attack on the town of Saraqeb on Sunday (4 February) which left 11 people in need of emergency treatment.
The Syria Civil Defence group said that barrel bombs containing chlorine gas had been dropped by helicopter and caused the casualties to gasp desperately for air, suffer severe irritation to their skin and eyes, vomit and collapse. The casualties included three Syria Civil Defence volunteers who had rushed to the scene to assist.
Amnesty spoke to a Syria Civil Defence volunteer who described arriving several minutes after a barrel bomb landed in a field 50 yards from an agricultural warehouse. There was no sign of any military targets in the vicinity in Saraqeb, which lies in the northwestern province of Idleb and is 25 miles from the nearest frontline position. 
The Syria Civil Defence volunteer said:
"We heard people crying for help somewhere on the road and others on the roof of a house. Around eight people were barely able to breathe and coughing non-stop. We gave them oxygen and transferred them to the hospital. While driving, I started to feel a shortness of breath, as if I couldn't breathe alone, and itchiness in my eyes. I felt nausea as if I wanted to throw up. My friends felt the same, but we weren't sure what was going on. I vomited when I arrived at the hospital."
A second member of the Syria Civil Defence team in Saraqeb told Amnesty that he witnessed the casualties being brought to a medical post:
"When they arrived, I saw the rescue team also breathing with difficulty, and they collapsed. The doctors told me that the symptoms of the 11 people - including the three Civil Defence volunteers - were consistent with a chemical attack, probably chlorine."
A nurse working at the medical post also confirmed that the casualties had suffered symptoms from a chemical attack:
"They couldn't breathe, they were coughing non-stop, they had red eyes and some were vomiting severely ... Thankfully there were around 20 of us medical staff, so we quickly removed their clothes, washed them and gave them oxygen and a bronchodilation session to open the airways in their lungs."
The casualties, all of whom were men, have since been discharged.
Lynn Malouf, Amnesty International's Middle East Research Director, said:
"Once again, Syria's government has shown its utter contempt for international law by deploying illegal chemical weapons.

"Direct attacks on civilians are absolutely prohibited and are war crimes. The fact that the government feels free to flagrantly carry out such attacks using internationally-banned chemical weapons reflects the complete impunity enjoyed by those who order war crimes and crimes against humanity in Syria." 
Dozens of chemical weapons attacks
Syrian government forces are suspected of carrying out dozens of attacks with chlorine and other chemical weapons on opposition-held areas since 2012, killing hundreds and inflicting terrible injuries on others. All such attacks are prohibited by international humanitarian law.
In September 2013, after hundreds of people died in alleged sarin gas attacks on Ghouta, outside Damascus, Syria acceded to the Chemical Weapons Convention and President Bashar al-Assad pledged to destroy the country's stockpile of prohibited chemical agents. However, the following September, the Organisation for the Prohibition of Chemical Weapons (OPCW) fact-finding mission found "compelling confirmation" that a toxic chemical was used "systematically and repeatedly" as a weapon in villages in northern Syria. The OPCW also said it is confident that government forces used the nerve agent Sarin in an attack on the town of Kahn Sheikhoun in Idleb province last April in which more than 80 people were killed.