Syria: Russia's veto at United Nations over chemical weapons investigation condemned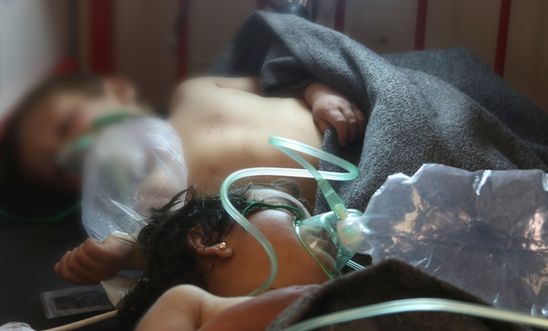 Children being treating after a a suspected toxic gas attack in Khan Sheikhun in Idlib province earlier this year © MOHAMED AL-BAKOUR/AFP/Getty Images
'This routine abuse of the veto has become the equivalent of a green light for war crimes' - Sherine Tadros
Responding to news that Russia has used its veto power at the United Nations Security Council to block a one-year extension for the joint investigative mechanism mandated with investigating chemical attacks in Syria, Sherine Tadros, head of Amnesty International's UN office in New York, said:
"For the ninth time, Russia has used its veto power to shield its ally, the Syrian government, from any punitive consequences it could face for war crimes and crimes against humanity committed since the start of the conflict over six years ago.

"By preventing the mandate extension of the gas attacks probe they helped set up, Russia has dealt a huge blow for justice in Syria and shown once again their callous disregard for all those who have been killed and injured in these attacks.

"This routine abuse of the veto has become the equivalent of a green light for war crimes, allowing all parties involved in the conflict in Syria to act with complete impunity and disregard for international law, with civilians paying the ultimate price."
Syrian government forces are suspected of having carried out dozens of attacks with chlorine and other chemical weapons on opposition-held areas since 2012, killing hundreds and inflicting terrible injuries on many others.