Syria: people in camps enduring 'unbearably harsh' living conditions - new report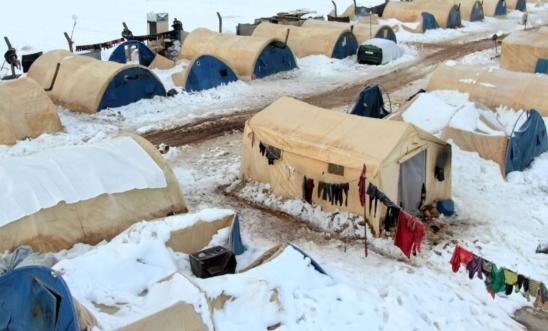 © Ali Haj Suleiman
Call on UN Security Council to renew resolution for vital cross-border aid 
 
1.7m people - more than half children - in extremely vulnerable circumstances, with water shortages and disease 
'Can anyone live in a tent and feel safe? Impossible' - camp resident speaking to Amnesty
The UN Security Council must extend the cross-border resolution that allows the UN to deliver aid to at least four million residents and internally-displaced people in north-west Syria before it expires on 10 July, Amnesty International said today.
In a new 32-page report - 'Unbearable living conditions': Inadequate access to economic and social rights in displacement camps in north-west Syria - Amnesty shows how people living in dire conditions in the camps are extremely vulnerable and entirely dependent on international aid for survival.
Since the start of the country's armed conflict, the Syrian government has relentlessly attacked the healthcare system in north-west Syria and obstructed the delivery of medical aid, impacting the right to health for millions of people.
About 1.7 million people are currently living in camps in north-west Syria, more than half of whom (58%) are children. The vast majority live in tents with little or no access to water or sanitation, and are entirely dependent on humanitarian aid for survival. The one-room tents do not have solid doors or locks, and have no insulation from the extreme cold or heat. Camp residents receive water mostly through communal tanks, but the amount they receive is less than half of their daily needs, and only around 40% have access to functioning toilets. 
Amnesty interviewed 45 people - predominantly in Idlib - including humanitarian and medical workers, in addition to displaced women and men from the area.
 
One woman, who has been living with her husband and five children in a camp for the past three years, said:
"I live in a one-room tent. I added a small cooking station and thin mattresses to cover the rest of the room, which we use during the day and night as it is the only space we have. I do everything in this one room: sleep, cook, wash clothes, bathe, everything. There is no door. We have a cover which we roll up and down to enter or leave the tent. Anyone can enter. Can anyone live in a tent and feel safe? Impossible."
People living in the camps told Amnesty that every winter they struggle to stay warm, keep their tent and belongings dry, and carry out daily chores, as their movements are hindered by heavy rains, flooding and muddy roads. In addition, they resort to burning plastic, wood and other inflammable materials inside their tents during the winter, a practice that has caused at least 68 fire incidents so far during 2022. 
Health workers told Amnesty that the tents represent a serious health risk caused by the transmission of contagious diseases. The poor quality of water and sewage treatment has led to the spread of waterborne diseases. Humanitarian workers also told Amnesty that overcrowding, a lack of privacy, unfenced camps, a lack of locks and women's exclusion from decision-making processes, have exposed women and girls to a range of gender-based violence, including violence by family members, other residents and humanitarian workers.
One aid worker said:
"Every type of gender-based violence that you know and can think of exists in north-west Syria, especially in camps. It includes verbal harassment by male family members, physical violence also by male family members, rape and sexual exploitation."
The communal toilets and bathing facilities - established without any consultation with women in the vast majority of camps - all contribute to the risk of violence. This is worsened by poor lighting, unlockable doors and unsegregated toilets located in isolated areas. 
One humanitarian worker said:
"Women go to communal bathrooms together in groups or accompanied by a relative. At night, they are scared to go alone, so if there isn't anyone accompanying them then they either use a makeshift toilet or hold it in until the morning."
Diana Semaan, Amnesty International's Acting Middle East and North Africa Deputy Director, said:
"Many of these displaced women, men and children have spent over six years living in conditions of absolute destitution in north-west Syria.

"They have little prospect of returning to their homes due to ongoing violations by the Syrian authorities at their place of origin, but staying put means living in unbearably harsh living conditions and risking disease and gender-based violence.

"Since losing control of the north-west part of the country, the Syrian government has cut off electricity and water supplies, obstructed aid, and attacked camps, medical facilities and schools, putting the onus on humanitarian organisations to provide services.

"There is no effective solution for providing adequate humanitarian aid in north-west Syria except by renewing the existing cross-border mechanism. It is imperative that the UN Security Council renews authorisation of that mechanism before it expires on 10 July."   
Aid reductions
Reductions in international aid over the past year have seriously undermined living conditions for north-west Syria's residents and internally-displaced people. 
Shortages of humanitarian staff, medicine and equipment have seen health facilities forced to scale down or halt their operations. In recent years, insufficient funding has meant donors and humanitarian organisations have been unable to provide people living in the camps with adequate access to essential services. As the crisis has grown more protracted, interventions have often focused on life-saving assistance, rather than durable solutions. 
According to the UN's Guiding Principles on Internal Displacement, internally-displaced people have the same rights as any other person living in the same country, including the right to an adequate standard of living. These rights must include, at a minimum, access to "essential food and potable water, basic shelter and housing, appropriate clothing, and essential medical services and sanitation".