Syria: new campaign over missing member of White Helmets shown in 'sinister video'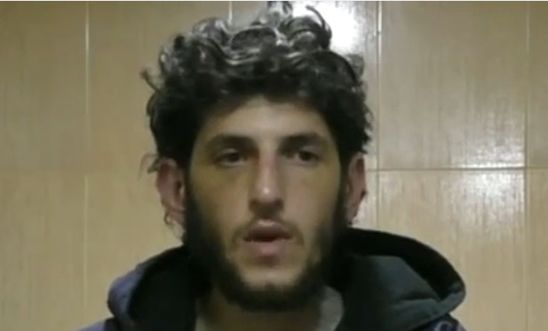 Abdulhadi Kamel, in a still from the video
'This sinister propaganda video is a reminder of the "information war" that the Syrian and Russian governments are operating' - Kristyan Benedict
Amnesty International has launched a new campaign on behalf of a missing member of the Syrian "White Helmets" rescue team who was taken away by an ambulance in a government-controlled area during the evacuation of east Aleppo in December and has reappeared in a mysterious video film labelled a "sinister propaganda video" by Amnesty.
Abdulhadi Kamel, 26, was travelling in a car as part of a convoy of civilians who were being evacuated out of the city of Aleppo on 16 December when the convoy was stopped by government forces.
All the men were forced to get out of the vehicles, with government forces firing shots in the air. Mr Kamel was among these injured by these shots and, according to a relative who was travelling with him, Kamel and others were taken away by a government ambulance.
Nothing further was known of Kamel's whereabouts until he appeared in a YouTube
video
 posted on 5 January by the ANNA news agency, based in Russian-controlled Abkhazia, a breakaway republic of Georgia. In the video, filmed in an unknown location, Kamel is seen "confessing" to being a member of a Syria Civil Defence team, commonly known as the White Helmets.
Kamel's family believe the video is the result of coercion. Included as part of an 18-minute "exclusive" package entitled "White Helmets: The Mask Of Terror", Kamel is seen denouncing the White Helmets as a "fake" rescue organisation, providing what appears to be a damning "confession" concerning the White Helmets' use of "actors" not real rescuers. Both the Syrian government and parts of Russian state-controlled media have been operating a long-running campaign questioning the authenticity of the White Helmets' operations, including claiming that its rescue videos have been staged.
Amnesty is calling on the Syrian authorities to disclose the fate and whereabouts of Mr Kamel, urging them to release him immediately unless he is to be charged with a recognisable criminal offence.
Amnesty International UK's Syria Campaign Manager Kristyan Benedict said:
"This sinister propaganda video is a reminder of the 'information war' that the Syrian and Russian governments are operating alongside the physical horrors of their airstrikes and sieges in this dreadful conflict.

 

"The White Helmets have acted heroically in places like Aleppo, saving countless lives during some of the most savage Syrian and Russian bombardments.

 

"We're extremely worried about Abdulhadi and we're demanding that the Syrian authorities disclose his whereabouts and set about freeing him immediately unless he's charged with a proper criminal offence."
Amnesty's campaign for Abdulhadi Kamel is
here
.