Syria: 'Horror' in Daraa as civilians and hospitals targeted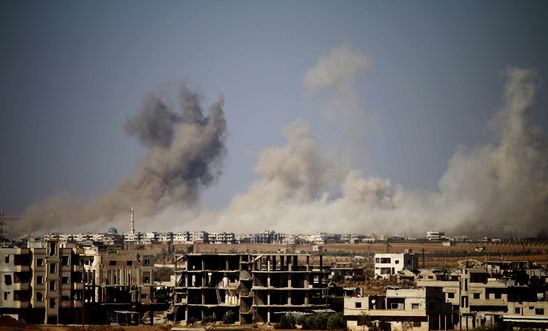 Plea to Jordan to open border: 'Jordan's border is their only gateway to safety' - Lynn Maalouf
Residents trapped, hospitals bombed, civilians who flee deliberately targeted, medical supplies dwindling
Civilians in Syria's southern Daraa province are facing death and destruction as the government ramps up a merciless campaign of indiscriminate artillery shelling and air strikes that include repeated attacks on hospitals, Amnesty International said today. Amnesty is urging the Jordanian government to open its borders to people seeking to flee the area, beginning with those who are sick and injured.
According to the Syrian Network for Human Rights, more than 198,000 people in Daraa have been displaced since 19 June after the Syrian government, supported by Russia, escalated attacks on densely-populated villages and towns in the area in a drive to oust rebel groups.
On Saturday and Sunday (30 June and 1 July), residents pleaded in despair with the international community for protection as the Syrian government - with the support of Russia - escalated attacks after negotiations with the armed groups faltered. Residents told Amnesty that they remain at risk of bombardment even if they flee their homes, as the focus of the attacks shifts to the areas hosting newly-displaced people.
Lynn Maalouf, Amnesty International's Middle East Research Director, said:
"Daraa residents are effectively trapped – many of those who are displaced are living in makeshift tents in the searing heat with insufficient food, water or medical care, and with the constant fear of being exposed to attacks at any given point. Jordan's border is their only gateway to safety.

"Among other horrors, we have evidence that Syrian government forces, supported by Russia, have repeatedly targeted hospitals especially in the areas people fled to - a strategy that has been repeated throughout the conflict. Such attacks are flagrant violations of international law, and cause suffering beyond comprehension.

"It is not too late to save lives. We are urging all parties to the conflict to allow safe passage to civilians wishing to flee the fighting and calling on the Jordanian government to open its borders to all civilians fleeing southern Syria. It is also vital that humanitarian organisations be given unfettered access to Daraa, so that life-saving aid can be delivered."
Hospitals destroyed
Medical workers told Amnesty that the field hospitals in al-Harak, Busr al-Harir, Mseifra, Seida and al-Jiza were among the first targets of the government's bombing. The number of displaced people is increasing the pressure on the remaining hospitals in Daraa, which are already operating in desperate conditions.    
A nurse from the town of Nawa spoke to Amnesty last Wednesday, and described how the field hospital where he works is only partially operating because of daily attacks and the high number of displaced people.
He said: "I am in the hospital now but we can't provide services because of the ongoing attacks. It is not safe for us especially that hospitals are the government's primary target."
A doctor who was also working in Nawa described how barriers to aid had left hospitals lacking even basic equipment. He said: "Currently, a lot of medical supplies are not available, such as anaesthesia medicine and gauze. We have scarcity of equipment used for bone surgery, and even material for local anaesthesia. As for aid in recent times, it has become very scarce. Some four to five months pass in between medical convoys."
A nurse described how indiscriminate shelling last Wednesday had destroyed the hospital in al-Jiza he was working. He said: "After noon prayers, shelling was close to the hospital, 10 to 20 metres from the hospital and we had wounded patients… Then, they targeted the hospital, destroying the northern section of the hospital. We kept working, leaving wounded people downstairs, and we were hiding in the radiology section so we don't get hit. Then, the area directly surrounding the hospital was targeted, and so the northern section of the hospital was destroyed (the wall collapsed), exposing us. We couldn't do anything, we left the patients and ran away."
'Raining bombs'
Amnesty spoke to 10 people, who described attacks with barrel bombs, air-dropped bombs and rockets.
A resident who fled Mseifra on Friday night [29 June] told Amnesty: "My family and I left as soon as the ceasefire agreement was announced because it was too risky to leave while the attacks were ongoing. I heard that that some families were killed in air strike attacks as they fled towards the Jordanian border. I preferred to stay but the attacks were unbearable in the few days before we left. We have seen what happened in Eastern Ghouta, so we know that the government will not stop until they gain control of every part of Daraa."
Another resident described how he had been displaced twice, and said that the government appeared to be deliberately targeting towns and villages where people had sought refuge after leaving the eastern part of Daraa. He said: "I moved with my family to Mseifra but then the Syrian government began indiscriminately attacking the town which is already hosting thousands of people… The attacks on Mseifra started four days ago but yesterday it was hell, that is why I left. It was raining bombs above our heads."
A journalist who lives in Jordan told Amnesty that his 83-year-old mother and his brother who has learning disabilities fled the eastern town of al-Harak last week. He said: "They have nowhere to go, so they are now living in an informal tent that my mother managed to put together in a field. I feel helpless for not being able to help them. The Jordanian border is closed so there is no way for them to come live with me…They don't have access to any humanitarian aid and are relying on what food people give them. It is too hot outside."