Syria: 'de-escalation' zones must not mean refugees are forcibly returned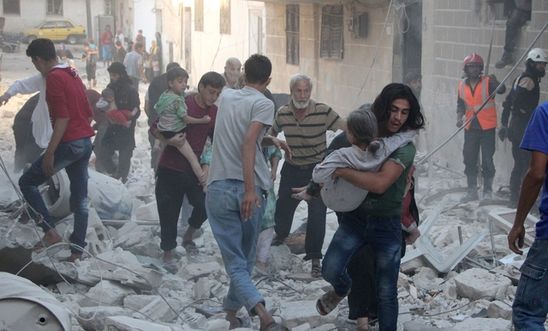 Survivors of an airstrike on the city of Idlib last year frantically carrying people to safety
In response to news of a Russian-brokered proposal for "de-escalation zones" in Syria signed by Turkey and Iran today and welcomed by the Syrian government, Lynn Maalouf, Director of Research at Amnesty International's Beirut office, said:
"Countries hosting Syrian refugees must not mistake this proposal for an opportunity to return those seeking refuge on their territories back into Syria.

"The conflict in Syria continues to rage on, and people continue to be killed, tortured and arbitrarily detained every day. Refugees have a right under international law to be protected from being forcibly returned to their country for as long as they are genuinely at risk of serious human rights violations. States hosting refugees have an obligation not to forcibly return Syrian refugees to Syria where their lives and freedoms would be at risk.

"Nor should the 'de-escalation zones' be used to justify countries closing their borders and denying people fleeing conflict and persecution the right to seek asylum." 
The zones, first announced yesterday, have not been universally welcomed, with Syrian opposition groups pulling out of the Russian-brokered peace talks in Astana in Kazakhstan in protest at their proposed creation.