Syria: 12-year-old girl among at least 18 civilians killed in Yarmouk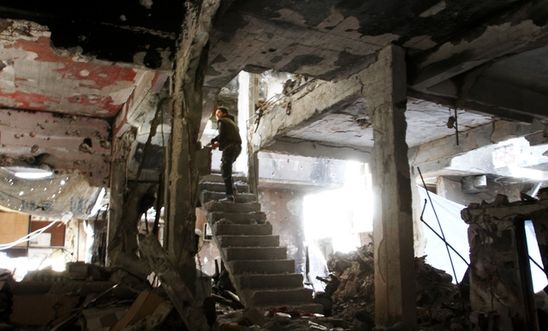 The bombardment of Yarmouk is taking a heavy toll © AFP/Getty Images
Barrel bombing and sniper attacks compounding misery of besieged civilians in camp
'No water, no food, no medicine' - a Yarmouk resident summing up plight of civilians
At least 18 civilians, including a 12-year-old girl and a humanitarian worker, have been killed in Yarmouk in Syria since the Islamic State armed group attacked and seized most of the Palestinian refugee camp a week ago, said Amnesty International. 
Thousands more are at risk as Syrian government forces have responded by intensifying their shelling and aerial bombardment of the camp, including by dropping barrel bombs. Residents have told Amnesty that some 25 barrel bombs were dropped on Yarmouk over the past week, mostly at night. 
Civilians in Yarmouk have found themselves caught between the prospect of Islamic State abuses and the imminent danger of government bombardments. The neighbourhoods of Palestine Street, Mansoureh Street and the Martyrs' Cemetery - still predominantly civilian areas although some Islamic State fighters have taken up positions there - have all been targeted in government attacks. 
According to local activists, Zeinab Daghestani a 12-year-old girl, was shot dead by a sniper yesterday while trying to flee to the calmer southern part of Yarmouk. Other civilians killed include Majed al-Omari, a humanitarian worker for Jafra Foundation, a relief organisation, who is believed to have been shot dead in cross-fire last Friday, while Jamal Khalefe, a 27-year-old media activist, was killed during heavy shelling the same day. Meanwhile, another young Palestinian refugee, Hussein Taha, was killed on Monday when his home was struck by a barrel bomb. 
Civilians have also come under sniper fire and been caught up in clashes between armed groups, especially between Islamic State and the mostly Palestinian Aknaf Beit al-Maqdis. 
Despite the escalation in fighting, both Syrian government forces and Islamic State fighters have refused to allow medical or humanitarian aid into the camp, leaving dozens of injured people without access to vital medical assistance. One of Yarmouk's two surviving medical facilities, the Palestine Hospital, was struck by a missile on 1 April, with six volunteers injured.
"The main injuries here are caused by sniping and shelling", a medical worker in Yarmouk has told Amnesty. "The main illnesses are heart and chest conditions, diarrhoea and infections - and all are worsened by malnutrition. We have a severe lack of medicines and medical equipment and we have an urgent need for rehydration liquids, blood bags and antibiotics." "For the civilians the situation is increasingly worse," one resident said. "No water, no food, no medicine."
Amnesty International Middle East and North Africa Deputy Director Hassiba Hadj Sahraoui said:
"Immediate and unfettered access to Yarmouk by independent humanitarian agencies is desperately needed to alleviate this relentless suffering.

  

"The use of barrel bombs against a besieged and starving civilian population is yet another demonstration of the Syrian government flouting international humanitarian law and its callousness towards civilians. 

 

"All such attacks must end immediately. All sides should also take all feasible precautions to minimise harm to civilians.

 

"For civilians still trapped in Yarmouk life is an agonising struggle for survival. After enduring a crippling two-year-long government-imposed siege, now they are pinned down by sniper fire fearing for their lives as shelling and aerial attacks escalate."
The siege of Yarmouk
Some 18,000 civilians have been besieged by government forces in Yarmouk for nearly two years, creating a devastating humanitarian crisis. There have been scores of deaths from starvation and a lack of medical care. One civilian activist in Yarmouk told Amnesty that two more residents died of starvation this week. Prior to 2011 Yarmouk hosted the country's largest Palestinian refugee population as well as many thousands of Syrian nationals.