Student Media Summit: Ian Hislop, Jon Snow, Sue Turton and Nawal Al-Maghafi announced as speakers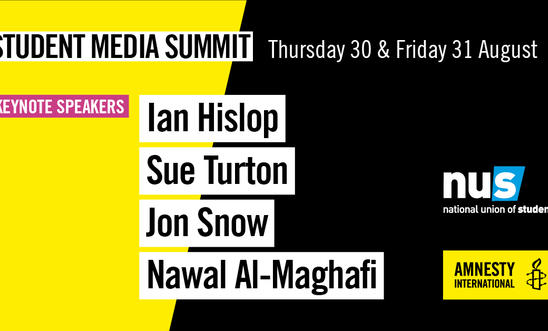 Registration now open for the Amnesty International UK and NUS-hosted Student Media Summit 2018: https://www.amnesty.org.uk/sms2018
Amnesty International UK and NUS are pleased to announce broadcaster and Private Eye Editor Ian Hislop, Channel 4 News Presenter Jon Snow, Series Editor of Channel 4's Unreported World Sue Turton, and BBC News Correspondent Nawal Al-Maghafi as key note speakers at this year's Student Media Summit 2018.
Returning for its 11th year on Thursday 30 and Friday 31 August, the Student Media Summit offers workshops, talks and panel discussions with some of the UK's top journalists, and is a must for any student with an aspiring career in journalism.  
This year's programme offers workshops and talks hosted by UK journalists, including:
Jon Snow

, Presenter, Channel 4 News

Polly Curtis

, Editor-in-Chief, HuffPost UK

Ian Hislop,

Editor of Private Eye magazine and 'Have I Got News For You' presenter

Jessica Winch

, Foreign News Editor, The Daily Telegraph

Sue Turton,

Series Editor, Unreported World

Paul Conroy,

War photographer, The Sunday Times

Louisa Compton

, Commissioning Editor, Channel 4's Dispatches

Nawal Al-Maghafi

, Correspondent, BBC News

Zing Tsjeng

, UK Editor, VICE Broadly

Ronke Phillips

, Senior News Correspondent, ITV News London

Nick Rotherham

, Political Reporter, BBC Radio 1 Newsbeat

Rachel Oldroyd,

Editor, Bureau of Investigative Journalism

Nosheen Iqbal

, The Guardian, G2, The Observer

Tina Moran

, Press Association

Victoria Sanusi

, Digital Culture Editor, The i

Tobi Oredein

, Founder, Black Ballad

Kirstie Brewer

, Broadcast Journalist, BBC Stories

Sean Stephens,

Senior Field Producer, HBO's 'VICE News Tonight' 

Aamna Mohdin,

Reporter, Quartz

Helen Lawson

, Features Sub-Editor, The Times

Kat Lister,

Freelance journalist

Simisola Jolaoso, Multimedia journalist

Rossalyn Warren,

Feature and investigative freelance journalist

Asha Hussein, Social Media Producer, Evening Standard
Details
Where: The Human Rights Action Centre, 17-25 New Inn Yard, London, EC2A 3EA
When: Thursday 30 and Friday 31 August 2018
The two-day Summit will be an opportunity to hear from our high-profile keynote speakers and attend skills sessions on a variety of subjects, including interviewing, news writing, photography, and investigative journalism. There will be panel discussions on 'Women in Media', 'Race and Diversity' in media and 'Journalists Under Threat'. Attendees will also have the chance to quiz representatives from The NUS during a special press briefing.
Delegates will benefit from a careers fair and stalls offering a chance to network with industry professionals from a variety of news outlets, further education institutions and traineeship schemes, including The Press Association, Sky News, The Guardian, Channel 4 Investigative Journalism, The Second Source, and City and Cardiff Universities.
There is a £5 registration fee to cover administration costs. All food and drink will also be provided over the two days.
Space is limited, book now to avoid disappointment: https://www.regonline.co.uk/registration/Checkin.aspx?EventID=2459153