Street art star makes bold London statement for Amnesty's new 'Brave' campaign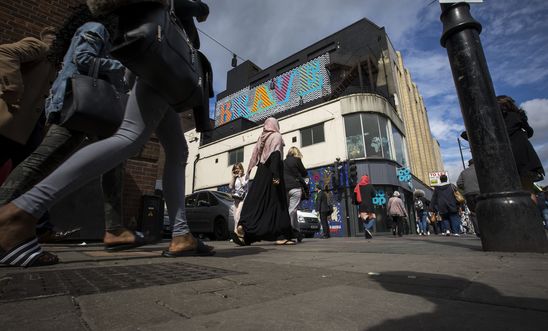 Ben Eine's 'Brave' mural in East London © Richard Burton/Amnesty International
Internationally acclaimed street artist Ben Eine has added his voice to a new campaign by Amnesty International which celebrates the courage of people who stand up for human rights.
Eine, who is one of the world's most influential street artists, has created a giant mural on a building in East London spelling out the word "Brave" in 16-foot-high letters. It marks the launch of Brave, a new campaign highlighting the courageous activists and whistle blowers around the world who often put themselves in grave danger to challenge human rights violations. 
Ben Eine said:
"I've been given fines for my work, done community service and made my mum cry, but that's nothing compared with what other artists around the world have faced because their work challenges accepted ways of thinking.
"We should all be free to express ourselves. From the safety of my comfort zone, I'm trying to support artists and others around the world to be brave. It's important to stand up for them so they know the efforts they make for a better world and to challenge injustice don't go unnoticed."
The number of killings of human rights activists around the world nearly doubled in 2016, from 156 the previous year to 281. Since 1998, 3,500 people have been killed for standing up for human rights, the equivalent of one every other day. Amnesty's Brave campaign demands an end to attacks against them and calls on supporters to stand with all those who fight against injustice and hatred.  
Kate Allen, Director of Amnesty International UK, said:
"Artists, journalists, lawyers, women's rights activists and others campaigning for human rights around the world are facing unprecedented levels of persecution, intimidation and violence. They should be celebrated, but instead they are being smeared and attacked by governments. We are delighted that Ben has added his name to our 'Brave' campaign to protect those who stand up for human rights."
The work is also part of Colour in Romford, a street art initiative geared towards making Romford a 'painted town', launched last year by Made Public, an arts Community Investment Company dedicated to regenerating Romford through art and culture. 
Made Public Managing Director Sarah Walters said:
"We believe 'art is for everyone' and have been able to continue the Colour In Romford  initiative into 2017, thanks to funding from the GLA High Street Fund. This has enabled us to work with a number of acclaimed street artists including Ben Eine, DZIA and Art+Believe. We were delighted to provide a location and team to assist with the Amnesty International 'Brave' campaign and are glad that our hometown boasts such a powerful art piece."
Background
Amnesty International is calling on governments to recognise the work of human rights defenders standing up for the inherent dignity and equal rights of all people, and to ensure their freedom and safety.
Ben Eine's mural is painted on the wall of a building at 112 South St, Romford, RM1 1SS.