Stocking-filler book of human rights protections illustrated by children's laureate Chris Riddell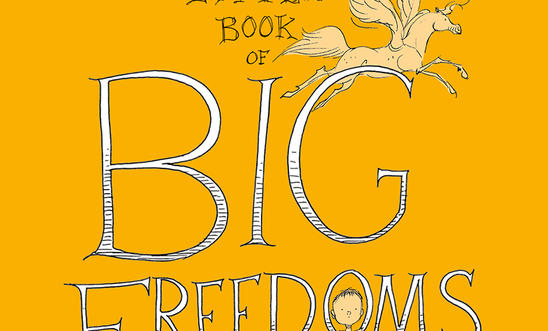 Press launch at British Library on Wednesday 2 December, 2 pm
"These freedoms were created to protect every one of us, forever. They are part of something called the Human Rights Act. We need to stand up for these freedoms and look after them just as they look after us." - Chris Riddell
Children's Laureate Chris Riddell has created a new children's picture book for Amnesty International, with 16 simple illustrations of the protections contained in the Human Rights Act. The collaboration marks a rare intervention by a laureate in a contentious issue.
'My little book of BIG freedoms: the Human Rights Act in pictures' makes the perfect stocking-filler and is the latest book in Amnesty's award-winning series of illustrated books for children. The 16 elegant sketches encapsulate the freedoms and protections people enjoy every day, but never notice. They are simplified as: life, protection, freedom, safety, fairness, justice, family, belief, thought, togetherness, love, solidarity, ownership, knowledge, hope and mercy.
As well as being an ideal gift for children to treasure, the book also raises awareness of the fact that the Human Rights Act is currently under threat, with the government saying it intends to repeal it. The book forms part of Amnesty's campaign to save the Human Rights Act.
A press launch for the book will take place on Wednesday 2 December at the British Library, where Chris Riddell will encourage a class of primary children to draw the rights that they think are most important. The British Library recently hosted an exhibition to mark the 800 year anniversary since the Magna Carta, a forebear to contemporary rights legislation. Further details of the press launch below.
Writing in the foreword to the book, Children's Laureate Chris Riddell, said:
'We all want a good life, to have fun, to be safe and happy and fulfilled. For this to happen we need to look after each other. Here in the United Kingdom there are sixteen different freedoms that help look after us. They are truly wonderful, precious things.

"These freedoms were created to protect every one of us, forever. They are part of something called the Human Rights Act. We need to stand up for these freedoms and look after them just as they look after us."
Kate Allen, Amnesty UK's Director, said:
"This is a beautiful little book which gets to the heart of the Human Rights Act, with its universal values such as the right to life, to be treated fairly and to be kept safe from torture.

"Children have a natural instinct for determining what's right and fair and this little book really appeals to that sense.

"There's never been a more important time to remember these basic common values, and to renew our continued commitment to these unifying principles of justice.

"Amnesty is delighted that the Children's Laureate has voiced his concern over plans to repeal the Human Rights Act. The Human Rights Act protects all of us, children and adults, which is why Chris' drawings are so important.

"It took ordinary people a very long time to win these rights and we mustn't let politicians take them away with the stroke of a pen."
What: Launch of 'My little book of BIG freedoms: the Human Rights Act in pictures'
Who: Children's Laureate Chris Riddell and primary school children from London
When: Wednesday 2 December 2-3pm
Where: Elliot Room, the British Library conference Centre, 96 Euston Road, London, NW1 2DB
 More information on the campaign can be found at www.savetheact.com